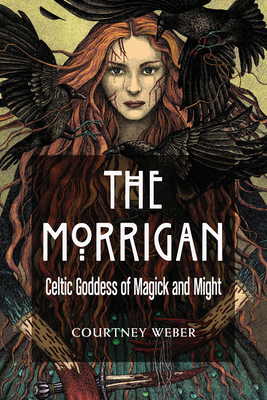 The Morrigan (Paperback)
Celtic Goddess of Magick and Might
Weiser Books, 9781578636631, 240pp.
Publication Date: November 1, 2019
* Individual store prices may vary.
Description
An illuminating exploration of Ireland's ancient dark goddess—the beloved "phantom queen" of the Celtic world—with practices for modern-day devotees.
The Morrigan is one of Pagan Ireland's most famous--and notorious--goddesses. Her name translated as "phantom queen" or "great queen," the Morrigan is famous for being a goddess of war, witchcraft and death, protection and retribution. This book also explores her patronage of motherhood, healing, shapeshifting, and the land. Classified among the Sidhe (fairies), the Morrigan dates back at least to Ireland's Iron Age, but she is as modern as she is ancient―enjoying a growing contemporary and global following. Author Courtney Weber provides a guide for the modern devotee of this complex, mysterious goddess that encompasses practical veneration with modern devotionals, entwined with traditional lore and Irish-Celtic history.
About the Author
Courtney Weber is a Wiccan priestess, writer, tarot advisor, metaphysical teacher, and social activist living in Oregon. She is the author of Brigid: History, Mystery, and Magick of the Celtic Goddess and Tarot for One: The Art of Reading for Yourself. Courtney is also the producer and designer of Tarot of the Boroughs. Courtney leads workshops throughout the US. Visit her at thecocowitch.com.
Praise For The Morrigan: Celtic Goddess of Magick and Might…
"Courtney Weber's new book, The Morrigan: Celtic Goddess of Magick and Might, adds much to the experiential material available on the Morrigan. The book is full of personal stories, interesting interpretations of the Morrigan's mythology, and methods to connect to her. It will certainly appeal to many of the goddess's followers today." --Morgan Daimler, author of Pagan Portals the Morrigan and Fairies: A Guide to the Celtic Fair Folk
— Morgan Daimler
"Within the pages of The Morrigan: Celtic Goddess of Magick and Might Ms. Weber has masterfully blended history, mythology, spell work and personal anecdotes into a book that beautifully explores the depth and breadth of The Great Queen and her associated goddesses. A must for neophyte to adept worshiper." --Amy Blackthorn, priestess of The Morrigan, and author of Blackthorn's Botanical Magic and Sacred Smoke
— Amy Blackthorn
"At what point does a book go from being academic to being one of prose? Courtney Weber does it here with The Morrigan, one of the most exhilarating books to come out on one of the most complicated goddesses of the Celtic Realm. Inspiring, thought provoking, and a must read for anyone interested in this central goddess of European myth." --Janet Farrar and Gavin Bone, authors of Lifting the Veil: A Witches' Guide to Trance Prophecy, Drawing Down the Moon, and Ecstatic Ritual
— Janet Farrar and Gavin Bone
"Magick can arise from many things, but often the most profound magick comes from the places where raw emotions, life truths, heart illusions, and paradoxes meet. Courtney Weber's The Morrigan: Celtic Goddess of Magick and Might is genuinely personal yet universal in outlook, otherworldly, yet grounded, and filled with a terrible beauty. In other words, it is a true and faithful account of a journey there and back again to the realm of the Phantom Queen. The book is part scholarship, practical advice, personal sharing, tears, and humor, but most importantly it never forgets the reader is a companion in this journey. If you feel the Morrigan is waiting at the edges of your life, this book will serve you well." –Ivo Dominguez, Jr., author of Keys to Perception and Spirit Speak
— Ivo Dominguez, Jr.
"Courtney Weber blends a powerful mix of history, myth, magic, and personal journey with the Lady of Many Guises. Let her book help you answer the call of the Great Queen." --Christopher Penczak, co-founder of the Temple of Witchcraft and author of The Feast of the Morrighan and The Mighty Dead
— Christopher Penczak
"In The Morrigan: Celtic Goddess of Magick and Might, Courtney Weber explores one of the most fascinating and complex deities: Ireland's goddess of many names and many faces. Weber provides a cohesive and brilliant book full of solid historical research, personal experience, and practical application with ease and grace, while guiding the reader to connect and create their very own personal practice and relationship with this ancient goddess. Whether you're already a devotee of the Phantom Queen or you've found yourself recently drawn to her call, this is a book to be cherished." --Mat Auryn, author of Psychic Witch: A Metaphysical Guide to Meditation, Magick, and Manifestation
— Mat Auryn
"Tarot adviser and social activist Weber (Tarot for One) introduces the often paradoxical aspects of the Celtic goddess the Morrigan in this eye-opening guide for beginners. She starts with explaining the complexity of describing a goddess whose identity is shrouded by both Christian influences in Ireland and the unstable nature of the deity herself—even to the point where "Morrigan" might be the title for a collection of divinities rather than an individual. Through myths and personal experiences, Weber explores the Morrigan as a warrior, foreteller of death, faery, reigning sovereign, shape-shifter, and fertility goddess. These facets spark useful discussions of modern misconceptions about the Celtic belief system, such as her careful explanation of the terrifying nature of Celtic faeries or the complicated gender roles of Celtic women. While each chapter has a template for invoking the Morrigan, the final chapter dives deeper into ritual practice, offering several clear options for worship. Weber demonstrates her consistent warnings that the Morrigan is powerful and sometimes unpleasant with mythic and personal examples of the havoc she can bring. This alluring book will intrigue practitioners of Celtic spirituality and those searching for stories of the feminine divine." -- Publishers Weekly Reviewed on 08/23/2019
— Publishers Weekly