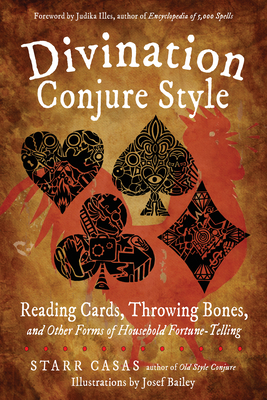 Divination Conjure Style (Paperback)
Reading Cards, Throwing Bones, and Other Forms of Household Fortune-Telling
Weiser Books, 9781578636693, 256pp.
Publication Date: November 1, 2019
* Individual store prices may vary.
Description
A delightful in-depth guide to the divination practices of conjure from the beloved author of Old Style Conjure and other books
In Divination Conjure Style Starr Casas shares the secrets of conjure-style divination that she learned at home and that, until very recently, were family secrets that were only transmitted orally. Traditional conjure is the domain of the poor and disenfranchised, living in regions that were (and remain) unfriendly to esotericism and the occult. Thus, conjure divination relies on inexpensive tools that are not exclusively magical: playing cards, rather than tarot cards, or scrying with blue water instead of a crystal ball.
The primary focus of Divination Conjure Style is playing-card divination, but other methods covered include bibliomancy, pyromancy, pendulums, and throwing the bones. Starr discusses the history of these methods and also offers practical information so that the reader can master these techniques for themselves. Josef Bailey, a young New Orleans artist, has created illustrations of conjure-style playing cards to Starr's specifications.
About the Author
Starr Casas
was born in the mountains of Kentucky and raised in the culture of the deep South. She has been a professional conjure woman for over 40 years and is the co-owner of the shop Conjure New Orleans in the French Quarter. A beloved teacher, she presents workshops across the United States and has written 13 books to date on conjure work. Visit her at oldstyleconjure.com.
Judika Illes is an author, teacher, psychic, spirit worker, and aromatherapist. She is the author of several books including  The Big Book of Practical Spells and the bestselling Encyclopedia of 5,000 Spells. Judika teaches workshops in the US and internationally. Visit her on the web at www.judikailles.com
Josef Bailey
is a tattoo artist at World Class Tattoos in Harvey, Louisiana, and also works as an artist in the New Orleans area and a float painter for Kern Studios Inc., with his artwork on display during Mardi Gras.
Praise For Divination Conjure Style: Reading Cards, Throwing Bones, and Other Forms of Household Fortune-Telling…
"I was so excited to read Starr Casas' book on divination, and I sure wasn't disappointed! I'm a big lover of all things divination, and though there are tons of books on the tarot, books on other rarer forms of divination are thin on the ground. This magical book gives the reader so much. I learned about forms of divination that I'd never heard of, like blue water reading and egg divination, and all told in such a beautiful, authentic, easy going, conversational and dedicated spiritual way. Divination Conjure Style is an absolute must for any aspiring reader." --Patricia Weston, author of White Witch Patricia Weston's Book of Spells and Magic
— Patricia Weston
"Starr Casas is who you want behind the table when you have a problem and need clear answers. And Starr Casas is also the one you want working for you when you need that problem fixed. In Divination Conjure Style, she shares with you her system of practical, down-to-Earth reading with playing cards, rather than Tarot or oracle decks, to get you the information you need, and how to work with the cards to change you situation. From prepping and setting up to reading the layout, you'll feel as if Starr is talking to you and guiding you on the path." --Christopher Penczak, co-Founder of the Temple of Witchcraft and author of City Magick and Instant Magick
— Christopher Penczak
"Divination Conjure Style is the sort of no-nonsense primer that any student can pick up as a gateway into Southern magical practice, but it also feels like the kind of book that will reward repeated consultation. In a way, Starr Casas is offering you a seat at her table as she riffles her deck of playing cards or throws her bones at your feet. The book is personal, not a conversation exactly, but a chance to hear a voice of wisdom and experience unclouded by distractions (which are all too common in occult writings). Starr's directness never comes off as condescending or dismissive of anyone's experience. Instead, her guidance through divination systems used in Southern-style Conjure is maternal, a hand pointing the way and a voice assuring you that you can do this. She weaves personal stories into her lessons, making the material she covers ring true with a lived authenticity. This book is not a sweeping history of all things Conjure or divinatory--it isn't trying to be that. Instead, Starr writes from her heart and from the well of her experience, and anyone about to pick up a deck of cards, a pendulum, or a pair of bent copper rods can benefit from reading it." --Cory Thomas Hutcheson, co-host of the New World Witchery podcast and author of 54 Devils: The Art and Folklore of Fortune-telling with Playing Cards
— Cory Thomas Hutcheson
"Mama Starr does it again! But this time, she's giving you "eyes to see and ears to hear!" In Divination Conjure Style, she reveals the many ways that divination was and is traditionally done in the Deep South: from reading playing cards and throwing bones to reading wax droplets and using blue water." —Jake Richards, author of Backwoods Witchcraft: Conjure and Folk Magic from Appalachia
— Jake Richards
"In her book, Divination Conjure Style, Starr Casas marries magic (Conjure), divination, and Bible verses. Having read playing cards myself for over forty years, I was delighted to learn something new!" -- Mary-Grace Fahrun, author of Italian Folk Magic: Rue's Kitchen Witchery
— Mary-Grace Fahrun
"If you want to learn, receive edification and see just how powerful the art of divination is, I would highly suggest you read Divination Conjure Style." —Hoodoo Sen Moise, author of Working Conjure
— Hoodoo Sen Moise
"In her landmark new book, Divination Conjure Style, Starr Casas provides the depth and breadth of the time-honored tools and skills of divination - the very center-post of conjure services, workings and practices. The under girding core wisdom that she highlights is how these tap the guidance of the ancestors. Starr immerses the reader in her traditional folk culture, and this ignites every word and concept with life, truth, connection and the magic to help and heal ourselves, our communities, and those we love, Read, understand, savor and apply these rare jewel she has given." --Orion Foxwood, author of The Candle and the Crossroads and The Flame in the Cauldron
— Orion Foxwood