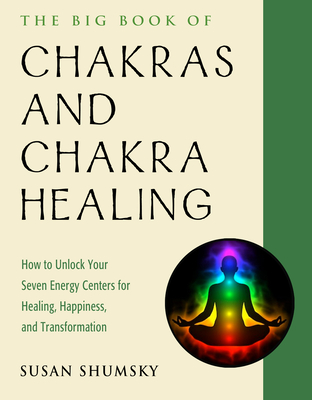 The Big Book of Chakras and Chakra Healing (Paperback)
How to Unlock Your Seven Energy Centers for Healing, Happiness, and Transformation (Weiser Big Book Series)
Weiser Books, 9781578636716, 304pp.
Publication Date: November 1, 2019
* Individual store prices may vary.
Description
"This book is for seekers. With writing that is both friendly to the layperson yet true to a deeper mystery, this is the book to which I refer my students who are interested in the esoteric wisdom and practices of the ancients." —Anodea Judith, author of Eastern Body, Western Mind
Although they are often misunderstood, the chakras are important facets of health and spirituality and when properly attuned can lead to happier and healthier lives. In The Big Book of Chakras and Chakra Healing, Dr. Susan Shumsky delves into the ancient Tantric and Vedic literature to uncover the veiled mysteries of the ages, where the most authentic information about the 7 chakras, 7 subchakras, and the subtle energy system can be found.
By reading this valuable book, you will:
Discover your subtle body and energy field and how to heal blockages.
Gain understanding of kundalini energy and the chakra system.
Understand how to use visualization to access your chakras.
Learn to maintain the health of your energy field.
The Big Book of Chakras and Chakra Healing is perfect for novices and experienced practitioners alike and will lead you on a journey of discovery, balance, and enlightenment.
About the Author
Susan Shumsky
, DD dedicates her life to helping people take command of their lives in highly effective, powerful, positive ways. She is an award-winning author of 14 books, including
Ascension and The Big Book of Chakras and Chakra Healing. A pioneer in the human potential field, she has taught meditation, prayer, affirmation, and intuition worldwide for 50 years. For 22 years, her mentor was Maharishi Mahesh Yogi—guru of the Beatles and Deepak Chopra. Her websites are drsusan.org and divinetravels.com.



Anodea Judith is the author of Eastern Body, Western Mind, The Sevenfold Journey, and Wheels of Life. She lives in Novato, California.