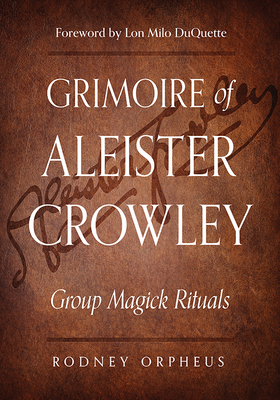 Grimoire of Aleister Crowley
Group Magick Rituals
Paperback

* Individual store prices may vary.
Description
Group ritual has been a cornerstone of spiritual practice since time immemorial, yet its history and importance have often been overlooked by occultists of the modern age. This book is the first comprehensive presentation of group-oriented rites for modern magicians inspired by the works of Aleister Crowley. It contains rituals written by Crowley for his own magic circles, many of them unpublished during his lifetime, plus rare ancient texts that were Crowley's own inspiration.
The rituals are newly edited and explained by Rodney Orpheus, who brings to this volume decades of experience in performing and teaching Aleister Crowley's rituals within Crowley's magical order Ordo Templi Orientis. He introduces each ritual with a clear overview, setting each in its historical context and explaining its function and mode of operation, and includes detailed notes on the setting and performance of each one.
Whether absolute beginner or seasoned expert, magicians of all paths will find this volume to be an eminently workable and extremely powerful grimoire spanning centuries from ancient Mithraic and Bacchanalian rites, Goetia, and Gnosticism, right up to present day Crowleyan invocations and sexual magick.
Praise For Grimoire of Aleister Crowley: Group Magick Rituals…
"With this book, Rodney Orpheus has produced the most significant Thelemic book written this century." --David Rankine, author of The Goetia of Dr. Rudd, The Grimoire of Arthur Gauntlet etc.
— David Rankine

"Eminently readable and (most importantly) usable, Grimoire of Aleister Crowley will keep many a magical group busy for years to come." --Richard Kaczinski, author of Perdurabo
— Richard Kaczinski

"The Grimoire of Aleister Crowley is sure to become a modern classic." --Sorita D'Este, author of Practical Qabalah Magick & Hekate Liminal Rites
— Sorita D'Este

"There are very few individuals living today who are qualified by education and experience to write this book, and even fewer with the talent and communication skills to bring it all to life on the printed page. Brother Orpheus is the incarnation of both these aspects of genius. Whether he is expanding upon classic Crowley rituals or creating and developing his own Thelemic ceremonies, the magician reader can be confident he or she is in good hands." --Lon Milo DuQuette, author of Understanding Aleister Crowley's Thoth Tarot
— Lon Milo DuQuette

"Rodney Orpheus, the modern Minstrel of Thelema, is back with another vibrant, creative, and irreverent effort that is sure to please and enlighten." --James Wasserman, author of To Perfect This Feast: A Performance Commentary on the Gnostic Mass
— James Wasserman
Weiser Books, 9781578636754, 320pp.
Publication Date: June 1, 2019
About the Author

Rodney Orpheus is a practicing magician, an established musician, and a member of the band The Cassandra Complex, one of the most important electroindustrial bands of the past decade. He lives in London and travels extensively.


Aleister Crowley (1875–1947), was an English occultist, ceremonial magician, poet, painter, novelist, and mountaineer. He is the author of several books, including Book of Thoth, Diary of a Drug Fiend, Magick, Book of the Law, and 777 & Other Qabalistic Writings.

Lon Milo DuQuette is a bestselling author who lectures worldwide on such topics as magick, tarot, and the Western Mystery Traditions. He is currently the US Deputy Grand Master of Ordo Templi Orientis and is on the faculty of the Omega Institute in Rhinebeck, N.Y. and the Maybe Logic Academy. Visit him at londuquette.com.