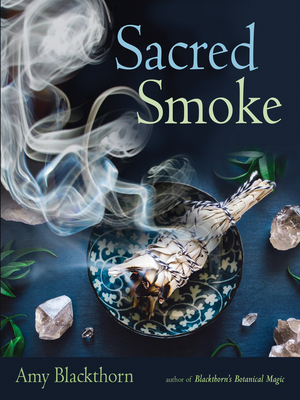 Sacred Smoke (Paperback)
Clear Away Negative Energies and Purify Body, Mind, and Spirit
Weiser Books, 9781578636808, 176pp.
Publication Date: October 1, 2019
* Individual store prices may vary.
Description
Learn how to create a sacred space free of negativity
This clear and contemporary guide explores the ritual use of smoke and scents to cleanse the energies of mind, body, and home. Here, aromatherapist and long-time herbalist Amy Blackthorn offers the essential tools for creating sacred space—a safe space free of negative energies—using herbs, incense, smoke, and other practices.
Written in an accessible style, free of jargon, Sacred Smoke has everything you need to know to get started on your practice of purification and cleansing, including:
The importance of self-care
How to keep your home and family safe
How to protect your home while you are away
Adding crystals to your cleansing practice
Using essential herbs and recipes for creating cleansing smoke
Sacred Smoke is an essential guide for anyone seeking to practice the ritual use of cleansing and clearing to protect and heal themselves, their home, and their family.
About the Author
Amy Blackthorn has been described as an "arcane horticulturalist" for her lifelong work with magical plants. She is certified in aromatherapy and ordained through the Gryphon's Grove School of Shamanism, and she incorporates her experiences in a British Traditional Witchcraft with her horticulture studies. Amy is also teaches hoodoo, and through her company, Blackthorn Hoodoo Blends, creates tea based on old hoodoo herbal formulas. She lives in Delaware.