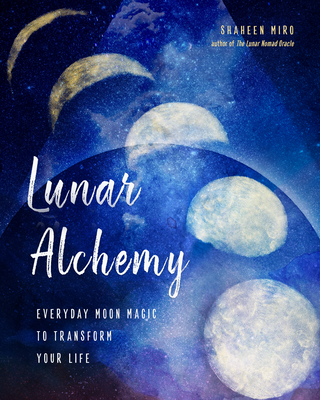 Lunar Alchemy
Everyday Moon Magic to Transform Your Life
Paperback

* Individual store prices may vary.
Description
"Lunar Alchemy helps readers tap into the dark to find the gold. Rituals, exercises, and journaling prompts, all delivered in Shaheen's beautiful prose, set the stage for deep exploration and lasting change."—Theresa Reed, author of Astrology for Real Life
Wherever you are in life, you are experiencing a phase. Just like the moon, you are on a journey from dark to light and back again, treading the path from inward journey to outward expression. And for whatever phase you may be in, there is magic to be discovered—magic that can transform your life.
In Lunar Alchemy, Shaheen Miro—a much-loved intuitive and energy worker—offers a new way of moving through the world. As you read this book, Miro will teach you how to embrace the moon's progression through the sky. Something in you will be awakened, a strange stirring of magic that has always been there. Each phase of the moon, writes Shaheen, is an invitation to fully participate in your life experience and to ultimately shine your light in full glory. The practices you will find here are available to anyone who is open to the prospect of awakening magic in their life for introspection, radical self-care, and personal empowerment.
Shaheen shares here his profound and personal understanding of the moon and the ways in which she can enrich our lives. By aligning yourself with the moon, you ultimately learn your own ebb and flow of lunar energy and take up this path for personal transformation.
Praise For Lunar Alchemy: Everyday Moon Magic to Transform Your Life…
"You'll never look at the moon the same way again after reading 
Lunar Alchemy
. Author Shaheen Miro encourages you to understand lunar phases in connection with the phases in your own life. The moon, he points out, is your mirror, and like the moon, you're always changing. Are you waxing, waning, new, full? Miro shows you how to recognize the phase you're experiencing at any given time, align yourself with cosmic energy, and make the best of whatever cycle you're in. With the moon as your guide, you can embrace your personal ebbs and flows. He provides dozens of easy-to-do but powerful exercises, meditations, spells, and rituals designed to shift your perceptions, so the 'luminous you' can come forth. Engaging and insightful, gracefully written and beautifully designed, 
Lunar Alchemy 
takes you on a journey of transformation that brings moon magic into every area of your life."    
— Skye Alexander, author of Magickal Astrology and The Modern Witchcraft Book of Tarot
"Like the phases of the moon, life is always in flux. When you learn how to lean into this flow, your life can become magical. In Lunar Alchemy, Shaheen Miro shows how to initiate transformation by following the cycles of the moon. This isn't your typical "moon magic" book. While most books in that genre focus solely on manifestation and wish-making, Lunar Alchemy shines the light on the inner work first, helping the reader tap into the dark to find the gold. Rituals, exercises, and journaling prompts, all delivered in Shaheen's beautiful prose, set the stage for deep exploration and lasting change. Once you've worked through the inner alchemy, you're ready to make magic happen with spells and ceremonies that pave the way for creating the beautiful life you want."
— Theresa Reed, author of Astrology For Real Life: A No B.S. Guide for the Astro-Curious
"As our understanding of the Moon becomes greater, so does our interest in how she can guide and transform our lives, phase by phase. In 'Lunar Alchemy: Everyday Moon Magic to Transform Your Life', we are invited to form an intimate relationship with the Moon through ritual and exercises. This book acts as an alluring portrait of both her and her cycles but, also, is a hands-on manual for the everyday practitioner, wishing to integrate the wisdom of this celestial body into their life" 
— Steven Bright, Author of 'Tarot: Your Personal Guide' and 'Spirit Within Tarot'
"As a practicing witch for two decades and a devote moonchild, I found myself completely spellbound by Lunar Alchemy! Filled with tips, tricks, exercises, and spells, Shaheen Miro's friendly and encouraging voice tenderly lifts readers from the book's pages and takes them on a magical journey to mother moon. Miro's teachings envelop the reader with enchantment in accordance to the wax and wane of the celestial cycles and tides of life--reminding us that even in the darkest of times a source of light will emerge to lead the way. This book is the perfect addition to any lunar lover's library!" 
— Michael Herkes, author of The GLAM Witch, The Complete Book of Moon Spells, and contributor to Witch Way Magazine
"You have come here looking for how to manifest that life you want, magic is your way to do it, but you do not know yet how magic works or how manifestation works, and that is why you have come to this book, to this wonderful work of Shaheen Miro.
Commit to reading this incredible magical work, is to make a commitment to yourself, is to commit to enter the shadows and walk among them to then learn (from the origin), the correct way to harvest your own light, and like the moon, manifest that wonderful light on the paths and trails of other seekers.
Lunar Alchemy is a journey of exploration into the interior, a journey that will take you to meet your inner being, and once there, embrace it with all the love that both of you (you and your inner yourself) deserve to receive."
— Elhoim Leafar, author of "The Magical Art of Crafting Charm Bags: 100 Mystical Formulas for Success, Love, Wealth, and Wellbeing"
"This is the moon magic book we have all been waiting for! With his typical blend of grace and charm, Shaheen guides us through the various ways we can work with the moon to create magic and alchemical transformation in our lives. The spells and enchantments are current, relevant, and potent. The perfect gift for any Lunar lover!"
— Briana Saussy, author of Making Magic
"In 
Lunar Alchemy
, Miro offers an exciting entrance to the Hermetic path of working with cosmic rhythms to expand our daily experience of magic.  This is the kind of work that can take you far outside your previous notions of who you are, and into a joyful relationship with your own divine power.  Miro guides readers through the strange paradoxes of the Moon's mirror with a confident hand and accessible practices.  Don't hesitate to pick up this delightful book, run with its beauty, and amplify your magic in the world."   
— Carolyn Elliott, author of Existential Kink: Unmask Your Shadow and Embrace Your Power
Weiser Books, 9781578636907, 224pp.
Publication Date: August 1, 2020
About the Author
Shaheen Miro is the coauthor (with Theresa Reed) of Tarot for Troubled Times and the creator of The Lunar Nomad Oracle Deck. He offers intuitive readings and energy clearing services to clients around the world—along with magical products like aura elixirs. He writes a blog and newsletter on healing, empowerment, and transformation and is a columnist for The Numinous. He also posts weekly intuitive forecasts on YouTube to help people shake off negative vibes and get prepared for a beautiful week.