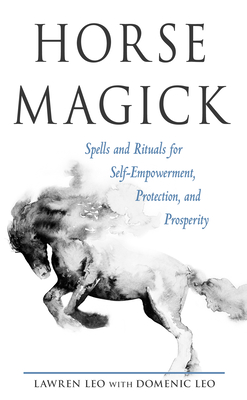 Horse Magick (Paperback)
Spells and Rituals for Self-Empowerment, Protection, and Prosperity
Weiser Books, 9781578636983, 208pp.
Publication Date: June 1, 2020
* Individual store prices may vary.
Description
Discover inner strength and wisdom by bringing the power of the equine spirit to life with spells, meditations, and creative visualization.
Along with the bear, horses are a primary creature associated with shamanism and traditions influenced by it. They appear in 25,000-year-old cave paintings, such as those at Lascaux. They find a role in the modern African diaspora traditions such as Haitian Vodou, whose devotees are called "horses" for the spirits who ride them during trances.
The spirit of the horse exists in the subconscious minds of humans and takes shape in various forms, whether as a symbol of fertility in the land, as in Celtic mythology, or as a psychopomp, which leads the dead to the next world. The horse has made its way into the current of our collective unconscious as a universal archetype.
Horse Magick contains spells, rituals, chants, and meditations for many purposes, loosely based around equine imagery. Numerous traditions are represented, as are many deities, including Athena, Epona, and Baba Yaga. No contact with actual horses is required.
Through the use of spells and rituals, readers are able to magickally ride to their chosen destinies and fulfill their desires. Workings involve crystals, candles, and Tarot cards, items easily accessible for most readers.
About the Author
Lawren Leo is an author and the owner of New Moon Books, Crystals, and Candles, a metaphysical boutique in Pompano Beach, Florida. He contributes to and co-edits the e-zine he founded, The Familiar. He is a spiritual counselor, student of esoteric philosophy, and practitioner of the magickal arts in the tradition of the Golden Dawn.

Domenic Leo, PhD, holds degrees in French and Spanish literature, linguistics, and ancient Greek, early Christian, Islamic, and medieval art history from Georgetown University, Christie's Education, and New York University's Institute of Fine Arts. He taught art history at Duquesne University, Youngstown State University, and the Art Institute of Pittsburgh Online Division and has lectured throughout the United States, Great Britain, and Europe.
Praise For Horse Magick: Spells and Rituals for Self-Empowerment, Protection, and Prosperity…
"Masterfully written, Horse Magick: Spells and Rituals for Self-Empowerment, Protection, and Prosperity has taken me on an enthralling mystical, magical, and historical journey from ancient to modern times alongside the astonishing, majestic horse. Extensively researched and eloquently presented, Lawren Leo and Domenic Leo summon their readers around the world, in order to grasp and appreciate the concepts of how mythology meets and melds with historical realities. We learn that throughout time, the immeasurable contributions of horses, and other equine species, have always played a significant role both magically and as a workforce, while aiding deities and helping the advancement of humankind. As an added bonus, this book is abundant with magical spells and incantations for an array of various situations, and they will certainly be incorporated into my own practice. Personally, I am now enchanted by the spirit of the horse.  A captivating, educational read and truly created as a labor of love!"
— Miss Aida, author of Hoodoo Cleansing and Protection Magic
"Horse Magick is essential for every modern wizard or sorcerer."
— Elhoim Leafar, author of The Magical Art of Crafting Charm Bags
"Horses clearly possess potent magic. If you've ever tuned into their wise stillness, gentle strength, and unbridled freedom, you're going to love Horse Magick. Read it to expand your magical repertoire and deepen your understanding of the symbolic and historical importance of horses, while liberating your spirit and stepping into your power in the process."
— Tess Whitehurst, author of Unicorn Magic: Awaken to Mystical Energy & Embrace Your Personal Power
"Imagine the strength and beauty of the amazing horse, and then imagine that power combined with magick. This is the gift that Horse Magick: Spells and Rituals for Self-Empowerment, Protection, and Prosperity brings to the reader. You don't have to love horses to appreciate their spirit and mythological importance, but I suspect that you will after reading this book. A long overdue addition to the genre."
— Deborah Blake, author of The Little Book of Cat Magic
"The Leo brothers have crafted the definitive guide to equine magick and myth. Drawing from magickal traditions around the world, Horse Magick offers a stunning survey of the role that horses have played throughout history. Lawren and Domenic artfully retell stories hailing from Japan to ancient Greece and the Americas to Africa. Each chapter is enriched by the addition of practical, simple, and effective spells--each and every one explained in detail so the practitioner can understand not only the how but also the why of magickal practice. This book is for more than just horse lovers; it is a delight to read and will inspire magicians for generations to come."
— Nicholas Pearson, author of Crystal Basics and Stones of the Goddess
"Horse Magick by Lawren Leo with Domenic Leo is an entrancing journey from prehistoric horse ancestors to ancient Greek wars; a journey to our highest potential through the spirit of the horse, the embodiment of freedom. The visuals alone take you on an enchanting trip through time and the extensive collection of spells contained within is captivating, whether you grew up riding, or have only seen photos of horses. Grab this book for an alluring view from horseback. Through the tides, deep in the rain forest, or through war-torn landscapes, let the horse be your guide."
— Amy Blackthorn, author of Blackthorn's Botanical Magic and Sacred Smoke
 "Carefully researched and delightfully written, Lawren Leo brings to life the core energy of ancient horse magick.  Enjoy the ride as you welcome, empower, and guide your inner shaman.  Myth, magick, spells, chants, rituals, and practical information gallop across the page to promote, challenge, and enhance your true essence.  Powerful and profound, a tool to help choose and shape your destiny, you will love this marvelous book!"
— Silver RavenWolf, author of To Ride a Silver Broomstick, Poppet Magick, and many other books of magick.
"Horse Magick is sure to bring strength, vitality, and empowerment into all aspects of your life. Through tapping into the symbolism and spirit of equine energy, the Leo brothers show you how to harness this force into your magickal practice to yield fantastic results. This approachable, clever, and well-researched book, will assist you in getting your magick to work at full horsepower!"
— Mat Auryn, author of Psychic Witch: A Metaphysical Guide to Meditation, Magick and Manifestation
"Drawing from a variety of traditions, the authors present a vast array of spells and rituals intended to furnish a better understanding of the ways the spirit of the horse acts upon everyday human life. Each spell includes explanations of steps and supplies, as well as information about the specific horse archetypes and spirits involved in the ritual. Though "no contact with actual horses is required" for these rituals, this enchanting guide provides pleasant reflective rituals for contemplating the connection between horses and humans."
— Publishers Weekly