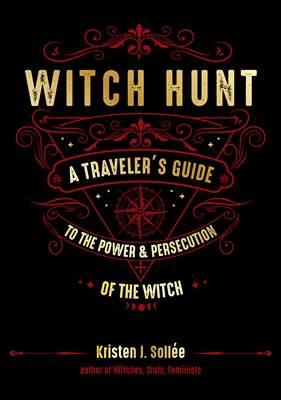 Witch Hunt
A Traveler's Guide to the Power and Persecution of the Witch
Hardcover

* Individual store prices may vary.
Description
"A transcendent travelogue with a wickedly delicious, feminist twist," writes Pam Grossman (author of Waking the Witch)—Witch Hunt is a captivating guide to the historic witch hunts and how their legacy continues to impact us today."
Traveling through cities and sites across Italy, France, Germany, Ireland, the United Kingdom, and the United States, Kristen J. Sollée—a second-generation witch herself—explores the witch as a figure of female power and persecution. By infusing an adventurous first-person narrative with extensive research and imaginative historical fiction, Witch Hunt captures the magic of travel to make an often-overlooked period of history come alive.
Between the 15th-17th centuries, a confluence of political, economic, and religious factors inspired witch hysteria to ignite like wildfire across Europe, and, later, parts of America. At the heart of the witch hunts were often dangerous misconceptions about femininity and female sexuality, and women were disproportionately punished as a result. Today, this lineage of oppression remains an important reference point through which we can contemplate women's rights—and human rights—in the Western world and beyond.
Witch Hunt isn't only an exploration of the horrors of history, but also uncovers how the archetype of the witch has been rehabilitated. For witches are not just haunting figures of the past; the witch is also a liberatory icon and identity of the present.
Praise For Witch Hunt: A Traveler's Guide to the Power and Persecution of the Witch…
"There is now a very clear need for a travel guide which deals with places associated with historic and contemporary views of witchcraft; and therefore it is a real pleasure to find one so extensive, well-written, well-informed and good humored."
— Ronald Hutton, author of The Witch: A History of Fear, from Ancient Times to the Present

"Sollee powerfully brings history to life through robust research and visceral visits to the lands of the witch hunts. Her on-foot and scholarly searching makes this book a page turner, sensitively reckoning the contemporary celebration of witchiness with the reality of a horrific past. It is an uneasy and often painful journey, but also one of insight and even beauty. Witch Hunt is a necessary addition to the new canon of works making sense of the witch."
— Taisia Kitaiskaia, author of Literary Witches and Ask Baba Yaga

"Witch Hunt is a transcendent travelogue with a wickedly delicious, feminist twist. Sollée writes with a deep respect for those whose lives were lost in the name of witchcraft, and a wide, wild love for those of us who see the modern resurgence of the witch as a signpost for a better, freer future. In doing so, our intrepid tour guide proves once again that infusing rigorous historical research with an unfettered, generous spirit creates a magic potion indeed. This book exceeded my sky-high hopes, and has quickly flown to the top of my list of bewitching favorites."
— Pam Grossman, author of Waking the Witch: Reflections on Women, Magic, and Power and host of The Witch Wave podcast

"Kristen Sollée has written an expansive, transformative and empowering book that every witch needs on their bookshelf. In Witch Hunt, Kristen ushers readers through winding cobblestones of magick and mystery, offering glimpses of the often overlooked legacy of the witch. Dripping with relevant historical insights and written with a beautiful and compassionate command of language, Kristen shares the history of the witch, her magick and persecution with reverence, respect and so much love. This book will transport you to distant lands where the witch once danced, and with Kristen as your guide, you can come to understand the witch and her world in a way that feels personal and inviting. By tracing the many paths of the witch, Kristen invites readers to create their own. This book is like nothing else, and is a must read for any witch."
— Gabriela Herstik, author of Bewitching the Elements: A Guide to Empowering Yourself Through Earth, Air, Fire and Spirit and Inner Witch: A Modern Guide to the Ancient Craft

"Kristen J. Sollée takes the reader on an imaginative and historical quest across continents to follow the trail of witches—the legendary, the self-professed, and the falsely accused—on and off the beaten path, sharing traces of their presences in our everyday world. It made me want to pack my bags."
— Marilynne K. Roach, author of Six Women of Salem: The Untold Story of the Accused and Their Accusers in the Salem Witch Trials

"Kristen Sollée (author of Witches, Sluts, Feminists) explores the archetype of the witch in this entertaining mix of travel guide, journal, and ghost story collection. Highlights include an examination of the divination culture of Italy, including the tarot-dedicated Museo dei Tarocchi in Bologna, and of England's occultism, including the Chelsea Physic Garden in London, where "the occult is inseparable from the landscape." Historical figures such as Joan of Arc in France and Dame Alice in Ireland are recast both as early examples of gender-fluidity and powerful women who were killed by fearful men. These and other historic women are featured in fictionalized "visions" that overcome Sollee, and work as a narrative device in which the dead impart knowledge of their craft and details of their often violent fates. While the author admits these scenes are fantastical, they nicely round out and give context to the catalogue of sites visited."
— Publishers Weekly

"Sorceresses of ancient Rome casting love spells with their menstrual blood. Joan of Arc speaking to angels. The cunning women of Ireland and their flying ointments. The witches of Kristen Sollee's new book teach us how to live magically. Impeccably researched and keenly felt, to read this book is to enter into a romance with the witch. A traveler's tryst. Sollee's love of place, the moss and the cobble stones, the ocean spray and the crumbling cemeteries, puts her in a polyamorous love affair with the witch and the world in which she lives. This book makes clear that the witch is a creature of her environment. Magic is embodied. The lands through which Sollee travels contain the spirits of the people who collected herbs on their hillsides, and spoke their enchantments into the wind. But as with so many love affairs born on holiday, behind all the beauty, the heart grips in grief. We know how the story ends. The witches in this book were hunted after all. But even though we know the story of many of these witches ends in sorrow, we carry on our love affair with them anyway, because to love is to be fully alive. And none are more fully alive than the witch. It's clear that Sollee fell in love with the witches in this book. Sollee's magic is that if you read it, you will too."
 
— Amanda Yates Garcia, author of "Initiated: Memoir of a Witch" and host of the Between the Worlds podcast
Weiser Books, 9781578636990, 256pp.
Publication Date: October 12, 2020
About the Author
Kristen J. Sollée is the author of three books on the legacy of the witch. A writer, curator, and educator exploring the intersections of art, sex, and culture, Kristen has lectured at George Washington University, the University of Southern California, the Museum of Contemporary Art Chicago, and across the US and Europe. Her 2017 book, Witches, Sluts, Feminists: Conjuring the Sex Positive was described by The Guardian as "a whirlwind history of the witch in America" and a "Must-Read" by BUST. Kristen's work has also been featured in NYLON, Hazlitt, the Times Literary Supplement, and on Viceland, Huffington Post Live, and NPR. She currently teaches at The New School in New York City.