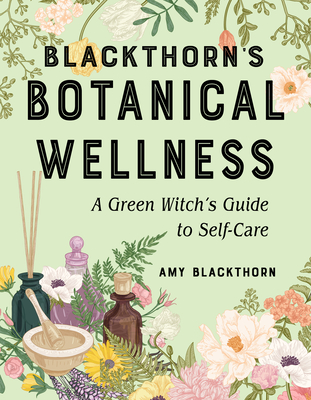 Blackthorn's Botanical Wellness
A Green Witch's Guide to Self-Care
Paperback

* Individual store prices may vary.
Description
A holistic, magical guide to physical and mental wellness, with tips on how to ward off negative influences that can drain your energy and affect your well-being.

"The best life starts within, looking outward," writes Amy Blackthorn in this simultaneously practical and personal guide to wellness and healing. Blackthorn, a master herbalist, aromatherapist, and prolific author, explores methods of wellness management using both mystical and mundane tools and techniques.

Amy's book features essential oils, plants, meditation, tarot, astrology, and personal sigils tailored to your own specific needs and circumstances. Blackthorn also describes her own journey to well-being and shares the lessons she's learned, including how to develop healthy mind-body habits and stop relying on fear and shame-based rituals for self-care that ultimately produce results that are the very opposite of what is desired. Instead, Blackthorn's Botanical Wellness supplies holistic solutions that enable readers to lead their best lives.

Weiser Books, 9781578637782, 256pp.
Publication Date: November 1, 2022
About the Author
Amy Blackthorn is a professional intuitive and the bestselling author of Blackthorn's Botanical Magic, Sacred Smoke, Blackthorn's Botanical Brews, and Blackthorn's Protection Magic. The founder of Blackthorn's Botanicals, she has a certification in aromatherapy and was ordained by the Order of the Golden Gryphon. Amy lives in Delaware. Keep up with Amy's book news at amyblackthorn.com.