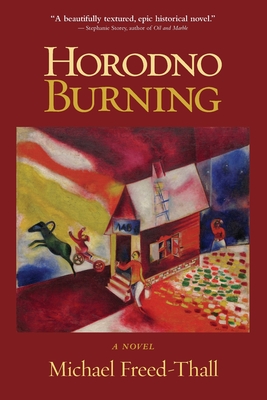 Horodno Burning
Paperback

* Individual store prices may vary.
Other Editions of This Title:
Hardcover (9/21/2021)
Description
In the Russian Empire's Pale of Settlement, Esther Leving, a brilliant young bibliophile, chafes at male dominance, religious dogma, and antisemitism. Bernard Garfinkle, a religious Jew and the son of a vodka distiller, hides a shameful secret-in a culture that worships books, he can't read. Despite their differences, they fall in love. Esther teaches Bernard to read and he in turn builds her a bookshop. They start a family, but when ferocious pogroms target Russian Jews, they must confront violent oppression.
Exploring the turbulent history which led to the great migration, when one-and-a-half million Jews emigrated to America between 1881 and 1914, Horodno Burning is a love letter to literature, freedom, and Jewish survival.
Praise For Horodno Burning…
"Michael Freed-Thall's Horodno Burning is a beautifully textured, epic historical novel with an ending that will simultaneously break your heart and inspire you to live life to the fullest. With courageous, noble, and big-hearted characters at its center, Horodno Burning takes readers on a journey through turbulent and dramatic times and into a rich and stirring account of Jewish history. Readers of historical fiction who look for strong female characters at the spine will be enraptured by this exquisite debut."

—Stephanie Storey, bestselling author of Oil and Marble and Raphael, Painter in Rome
Rootstock Publishing, 9781578690671, 330pp.
Publication Date: September 21, 2021
About the Author
When he's not cutting next winter's firewood, pulling weeds in the garden, or off on an adventure with his wife Patricia, Michael Freed-Thall is probably staring at his computer waiting for inspiration. When he retired after thirty years as a teacher and principal in Vermont schools, he took up writing. He became active with the Burlington Writer's Workshop, co-edited one of their yearly anthologies, and published four short stories. The Vermont Studio Center accepted him into their week-long summer writing camp, and the Association of Writers and Writing Programs chose him to participate in their Writer to Writer Mentorship Program. These opportunities helped him finish his first book, Horodno Burning.