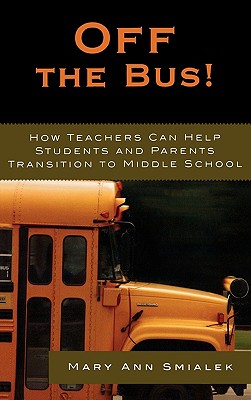 Off the Bus! (Hardcover)
How Teachers Can Help Students and Parents Transition to Middle School
Rowman & Littlefield Education, 9781578864317, 99pp.
Publication Date: June 1, 2006
* Individual store prices may vary.
Description
This thoughtful and practical guide will appeal to today's busy teachers as it walks them through the basic parent-teacher strategies every teacher must master to ensure that preteens and their anxious parents receive a quality learning experience. Teachers will also learn steps for working with parents that will facilitate favorable parent-teacher-student partnerships. These tips and techniques support time and effort spent with both the students and parents in various situations throughout the school year. Off the Bus provides the support needed to foster high standards for a quality education, both at home and at school.
About the Author
Mary Ann Smialek, Ed.D., is the president of Quest Solutions Education Consulting. She is an experienced educator in both regular and special education, specializing in the remediation of specific learning disabilities. Mary Ann is a leading speaker and author on home-school partnerships, parent-teacher collaboration, motivation, and team strategies. She also conducts seminars and workshops on school success strategies for educators of elementary-and middle-school students, diagnostic/prescriptive teaching techniques, curriculum modifications, and adaptations for students with Individual Educational Programs (IEP). For a personal response to a question or comment, visit her website: www.maryannsmialek.com and "Ask Dr. Mary Ann."