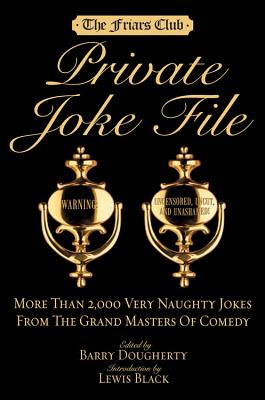 Friars Club Private Joke File
More Than 2,000 Very Naughty Jokes from the Grand Masters of Comedy
Hardcover

* Individual store prices may vary.
Description
Rated XF (for X-tra Funny), this giant collection of off-color jokes, stories, and anecdotes is like a naughty invitation to sit down at one of the legendary Friar's Club roasts.
With an introduction by Lewis Black.

Saucy, sassy, laugh-out-loud and not-for-kids, this giant, off-the-wall collection of jokes, quips, stories, and humor is slightly off-color and completely hilarious. Packed with 2,000 jokes and stories grouped thematically into such categories as Marriage, Medicine, Old Age, Kids, and (of course) Sex., The Friar's Club Private Joke File includes classic material attributed to Richard Belzer, Gilbert Gottfried, Susie Essman, and Penn Jillette, with bonus interviews with stand-up comedians known for their naughtiness- including Mario Cantone, Judy Gold, Jeffrey Ross, Lisa Lampanelli, and many more.

Like a front-row seat at an infamous Friar's Club roasts, this no-holds-barred compilation will keep you laughing and blushing for a long, long time.
Black Dog & Leventhal, 9781579125509, 416pp.
Publication Date: May 7, 2006
About the Author
Barry Dougherty is the author of several books, including A Hundred Years, A Million Laughs: A Centennial Celebration of the Friar's Club and BD&L's Private Joke File. He is the Editor of the Friar's Club magazine, the Epistle.

Since 1904 the Friars Club has been wining and dining the top personalities of the times. From ribald comedy to musical merrymaking, the Friars have spent a century cultivating a tradition of top-tier humor that has spanned many generations and spawned millions of laughs.