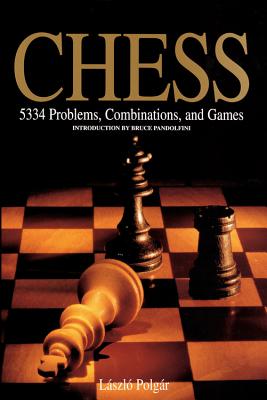 Chess (Paperback)
5334 Problems, Combinations and Games
Black Dog & Leventhal, 9781579125547, 1104pp.
Publication Date: August 13, 2013
Other Editions of This Title:
Paperback (1/15/1991)
Hardcover (8/13/2013)
* Individual store prices may vary.
Description
Here is the most complete collection of chess problems ever published, including 5,334 instructional situations, presented by the world's leading chess teacher. Chess analyzes more than 5,000 unique instructional situations, many taken from real matches, including 306 problems for checkmate in one move, 3,412 mates in two moves, 744 mates in three moves, 600 miniature games, 144 simple endgames, and 128 tournament game combinations. Chapters are organized by problem type. Each problem, combination, and game is keyed to an easy-to-follow solution at the back of the book, so readers can learn as they go. More than 6,000 illustrations make it easy to see the possibilities any position may hold. The book also includes the basic rules of the game and an international bibliography. Chess is the ultimate book on winning the game.
About the Author
Bruce Pandolfini is perhaps the most experienced chess teacher in North America. He is the author of eighteen instructional chess books, and was portrayed by Ben Kingsley in the film Searching for Bobby Fischer.
László Polgár is a Hungarian chess teacher whose writing and strategies are respected and known worldwide. He holds the title of master coach and coached his daughters, Susan, Judit, and Sophia, to several world championships and 11 Olympic gold medals. They host the annual EU Polgár Chess Festival in Budapest.