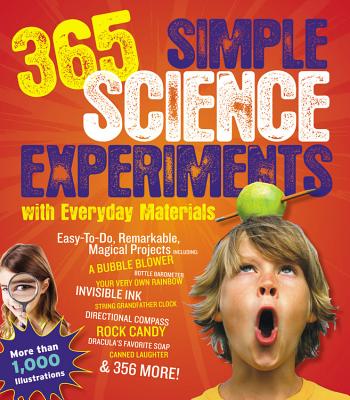 365 Simple Science Experiments With Everyday Materials
Paperback

* Individual store prices may vary.
Other Editions of This Title:
Hardcover (1/3/1997)
Description
Science experiments are fun for every age--especially when there is a surprise in each one. 365 Simple Science Experiments with Everyday Materials includes clever and core concept building projects perfect for a year of hands-on learning. Get ready to make things fizz, bounce, ooze and surprise you, young scientist! Keeping an emphasis on learning safely, 365 Simple Science Experiments with Everyday Materials is an illustrated entertaining guide to easy-to-do projects that convey basic science concepts, terms and methods while empowering kids to explore further on their own. From making invisible ink to building a weather station, these simple experiments are designed to inspire curiosity while instilling critical thinking skills. Projects include a bubble blower, a bottle barometer, an undersea water fountain, a directional compass, rock candy, and a rainbow. Through these engaging experiments kids learn about gravity, electricity, magnification, magnetism, oxidation, and more. Whether your young STEM / STEAM genius is preparing for a school science fair or just eager to know more about the world, 365 Simple Science Experiments with Everyday Materials is a great activity book at any time.
Black Dog & Leventhal, 9781579129279, 306pp.
Publication Date: March 5, 2013
About the Author
E. Richard Churchill, Louis V. Loeschnig, and Muriel Mandell are authors of books in the No-Sweat Science series, published by Sterling Publishers. They each have written several other science-related books for children and young adults.