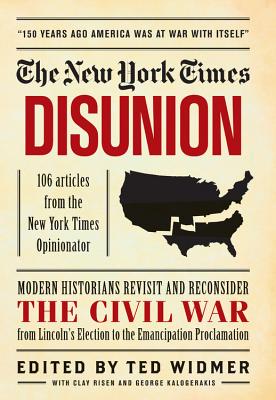 New York Times (Hardcover)
Disunion: Modern Historians Revisit and Reconsider the Civil War from Lincoln's Election to the Emancipation Proclamation
Black Dog & Leventhal Publishers, 9781579129286, 464pp.
Publication Date: May 14, 2013
* Individual store prices may vary.
Description
A major new collection of modern commentary? from scholars, historians, and Civil War buffs?on the significant events of the Civil War, culled from The New York Times' popular Disunion on-line journal

Since its debut on November 6, 2010, Disunion, The New York Times' acclaimed journal about the Civil War, has published hundreds of original articles and won multiple awards, including "Best History Website" from the New Media Institute and the History News Network. Following the chronology of the secession crisis and the Civil War, the contributors to Disunion, who include modern scholars, journalists, historians, and Civil War buffs, offer ongoing daily commentary and assessment of the Civil War as it unfolded.

Now, for the first time, this fascinating and historically significant commentary has been gathered together and organized in one volume. In The New York Times: Disunion, historian Ted Widmer, has selected more than 100 articles that cover events beginning with Lincoln's presidential victory through the Emancipation Proclamation. Topics include everything from Walt Whitman's wartime diary to the bloody guerrilla campaigns in Missouri and Kansas. Esteemed contributors include William Freehling, Adam Goodheart, and Edward Ayers, among others.

The book also compiles new essays that have not been published on the Disunion site by contributors and well-known historians such as David Blight, Gary Gallagher, and Drew Gilpin Faust. Topics include the perspective of African-American slaves and freed men on the war, the secession crisis in the Upper South, the war in the West (that is, past the Appalachians), the war in Texas, the international context, and Civil War?era cartography. Portraits, contemporary etchings, and detailed maps round out the book.



About the Author
The New York Times is regarded as the world's preeminent newspaper. Its news coverage is known for its exceptional depth and breadth, with reporting bureaus throughout the United States and in 26 foreign countries. Winner of 112 Pulitzer Prizes, The Times has the largest circulation of any seven-day newspaper in the U.S. Ted Widmer is a historian at Brown University, where he is Assistant to the President for Special Projects. He has served as a senior adviser to Secretary of State Hillary Clinton, Director and Librarian of the John Carter Brown Library, and Director of the C.V. Starr Center for the Study of the American Experience at Washington College. He has written or edited many works of history, including, most recently, Listening In: The Secret White House Recordings of John F. Kennedy. Clay Risen is an op-ed staff editor at The New York Times and the author of A Nation on Fire: America in the Wake of the King Assassination.
or
Not Currently Available for Direct Purchase