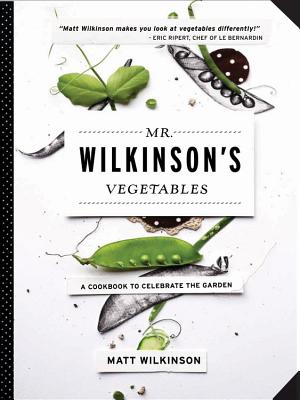 Mr. Wilkinson's Vegetables (Hardcover)
A Cookbook to Celebrate the Garden
Black Dog & Leventhal, 9781579129347, 304pp.
Publication Date: February 20, 2013
* Individual store prices may vary.
Description
This lush, creative cookbook celebrates the flavor and versatility of vegetables by bringing them to the center of the table in more than 80 delicious, easy-to-prepare recipes.

Too many of us let vegetables play second fiddle in meals that center on protein or carbs. For chef Matt Wilkinson, vegetables come first. He builds his dishes around vegetables that are in season, when they taste the best, are most affordable, and most readily available.

The recipes in Mr. Wilkinson's Vegetables range from simple salads such as Brussels Sprout Leaves, Mozzarella, and Anchovies, or Roasted Cucumber, Quinoa, Freekah, and Herbs, to hearty dishes such as Soft Parmesan Polenta with Crab and Mussels, or Braised Eggplant, Tomato, and Meatballs. They also include satisfying snacks like Irene's Tzatziki, or Smoked Tomato and Goat's Curd Gougéres, as well as desserts, such as Carrot Cake with Grated Carrot, Preserved Lemon, Raisin, and Ginger Pickle, or Creamed Rice Pudding. While many of the 80 plus dishes will appeal to vegetarians, there are plenty that incorporate meat. In all of them, Mr. Wilkinson's vegetables are the stars.

With beautiful photography and vintage illustrations, the book is both timely and timeless.

Praise for Matt Wilkinson and Mr. Wilkinson's Vegetables:

"Matt Wilkinson makes you look at vegetables differently! This book. . . will leave you eager to prepare one of his many delicious recipes." ?Eric Ripert, chef of Le Bernardin

"I love how my fellow Aussie Matt Wilkinson gives homegrown, seasonal vegetables the spotlight in his dishes. Whether you're eating in his beautiful market-driven Melbourne cafe or lazily reading through his cookbook Mr. Wilkinson's Vegetables, you can taste the admiration he has for all Mother Nature has to offer." ?Curtis Stone, chef and host of Top Chef Masters and Around the World in 80 Plates

"Matt Wilkinson takes vegetables to a whole new level with his recipes that are simple, yet intricate at the same time. Vegetables have never been as tasty." ?David Chang, chef/founder of Momofuku

"This book is packed with inventive recipes, gardening advice, and snippets of fun vegetable lore, and it's one I'll revisit often." ?Lukas Volger, author of Vegetarian Entrees that Won't Leave You Hungry

"I woke up in Melbourne and was whisked away to a studio where there was a make-shift kitchen with a couple guys putting together a meal of the most wonderful vegetables I had ever seen. There was no restaurant, no name. And that is where I met Matt and that chance meal in a warehouse behind a back alley is where one of my most special food memories remain. And now you can all see what I saw that night and maybe cook your own chance meal by Mr. Wilkinson."  ?Roy Choi, chef Kogi Taco, Food & Wine Best New Chef 2010

"This book hits home for me! The way it's organized makes it so easy for people to celebrate each vegetable during its season and even inspires us to grow them with instructions on how-to!" ?Ana Sortun, Oleana & Sofra bakery, Best Chef: Northeast 2005 James Beard Foundation
About the Author
Matt Wilkinson is passionate about food in season, farmers' markets, and local producers. As the former head chef at the award-winning Circa the Prince, Wilkinson helped usher in an era of organics and gardento- kitchen rustic fine dining. He now co-owns and runs Pope Joan and the neighboring market Hams and Bacon in Melbourne, both of which have cult followings for their fresh, seasonal food. He is also the coowner and chef of a franchise of 11 Spudbar slow-food, fast-food shops in Australia, which feature healthy and delicious topped baked potatoes and salads. His first cookbook, Mr. Wilkinson's Vegetables, won the IACP cookbook award for design and has sold more than 100,000 copies worldwide in nine languages. He lives in Melbourne, Australia. For current news, visit mrwilkinsons.com.au.
Praise For Mr. Wilkinson's Vegetables: A Cookbook to Celebrate the Garden…
"I build my dish around what vegetables are in season because this is when they will be the cheapest, most readily available, and, most importantly, taste the best?and surely this has to be the most important factor when cooking. ? This is where I'm a little different with my veg-first approach."

With that, and only that, Matt Wilkinson, author of Mr. Wilkinson's Vegetables, encourages readers to think about a protein to add (meat or seafood), considering how the flavors will marry together with the chosen vegetables. Revelatory!

What follows are twenty-four chapters devoted respectively to asparagus, beans & peas, beets, broccoli, brussels sprouts, cabbage, peppers, carrot, cauliflower, corn, cucumber, eggplant, fennel, garlic, horseradish, leaves from the garden, nettle, onion, parsnip, potato, pumpkin and squash, radish, tomato, and zucchini?each accompanied by gardening and preparation know-how and three or more recipes.
Mr. Wilkinson's beautifully photographed and illustrated vegetables cookbook is simply a must acquisition for anyone who reads, cooks, and eats.
Book Videos