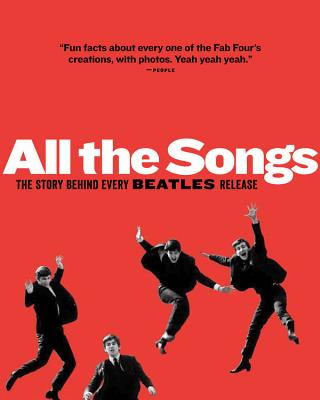 All The Songs
The Story Behind Every Beatles Release
Hardcover

* Individual store prices may vary.
Description
Every album and every song ever released by the Beatles - from "Please Please Me" (U.S. 1963) to "The Long and Winding Road" (U.S. 1970) - is dissected, discussed, and analyzed by two music historians in this lively, fully illustrated work.

All the Songs delves deep into the history and origins of the Beatles and their music. This first-of-its-kind book draws upon decades of research, as music historians Margotin and Guesdon recount the circumstances that led to the composition of every song, the recording process, and the instruments used.

Here, we learn that one of John Lennon's favorite guitars was a 1958 Rickenbacker 325 Capri, which he bought for £100 in 1960 in Hamburg, Germany. We also learn that "Love Me Do," recorded in Abbey Road Studios in September 1962, took 18 takes to get right, even though it was one of the first songs John and Paul ever wrote together. And the authors reveal that when the Beatles performed "I Want to Hold Your Hand" on The Ed Sullivan Show in 1964, John's microphone wasn't turned on, so viewers heard only Paul singing.

The hundreds of photographs throughout the book include rare black-and-white publicity stills, images of Beatles instruments, and engaging shots of the musicians in-studio.

All the Songs is the must-have book for the any true Beatles fan.
Praise For All The Songs: The Story Behind Every Beatles Release…
"Fun facts about every one of the Fab Four's creations, with photos. Yeah yeah yeah."—People

"Fifty years ago, the Beatles released their debut album. ... if you're a fan and All the Songs: The Story Behind Every Beatles Release makes it onto your coffee table, chances are that it'll be the one least likely to leave. Music historians Jean-Michel Guesdon and Philippe Margotin dissect, discuss and analyze every song, from 'Please Please Me' (1963) to 'The Long and Winding Road' (1970). There's a well- written 'Genesis' and 'Production' section for each song, as well as enough technical tables to please everyone's inner nerd, not to mention 600 photographs.—Wall Street Journal

"Everybody has a Beatles fan in their life, and you'll make them very happy if you give them a copy of All the Songs: The Story Behind Every Beatles Release."—Newsday

"A perfect giftt for the Fab-Four fanatic."—New York Post

"This is rock-solid stuff .... Yields all sorts of surprises, even for the initiated.... Essential for Beatles fans and a pleasure to read."
—Kirkus Reviews

"Beautiful layout and plenty of photos throughout.... And if that isn't enough, Patti Smith wrote the book's preface."—A.V. Club, 'Our Favorite Books of the Year

"Impossible not to like for Beatle-types."—The Nation
Black Dog & Leventhal, 9781579129521, 672pp.
Publication Date: October 22, 2013
About the Author
Jean-Michel Guesdon, a musician, composer, and sound engineer. Together with Philippe Margotin, he has written All the Songs books about the Beatles, The Rolling Stones, Bob Dylan, and Pink Floyd.

Outside of the All the Songs series, Philippe Margotin has written numerous books on music, including biographies of U2 and Radiohead. They both live in Paris.

Scott Freiman combines his career as a composer, producer, and educator with his in-depth knowledge of the Beatles to create Deconstructing the Beatles, a series of multimedia presentations about the composition and production techniques of the Fab Four. Freiman presents his lectures to sold-out audiences throughout North America and at colleges and universities. He lives in Irvington, New York.