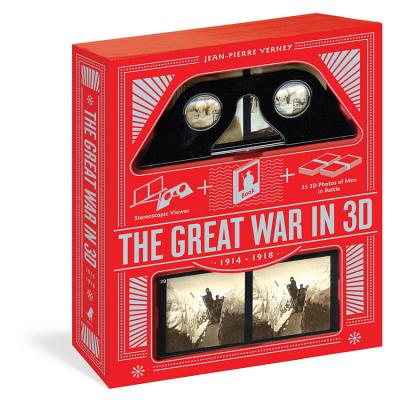 Great War in 3D (Paperback)
A Book Plus a Stereoscopic Viewer, Plus 35 3D Photos of Men In Battle, 1914-1918
Black Dog & Leventhal, 9781579129538, 176pp.
Publication Date: November 5, 2013
* Individual store prices may vary.
Description
See The Great War in 3D and experience first hand stories as told from the soldiers' perspectives
A BOOK PLUS A STEREOSCOPIC VIEWER AND 35 3D PHOTOS OF MEN IN BATTLE, 1914-1918
This innovative package comprises a sturdy metal stereoscopic viewer, 35 stereoscopic photographs of some of the most compelling moments captured on film during World War I, and a 176-page paperback book that provides a brief history of war photography and an overview of the war from 1914 through the Treaty of Versailles. The book covers the European campaigns and naval battles, focusing mainly on the lives of the soldiers. Chapters also cover Christmas on the battlefront; comics from British cartoonist Bruce Bairnsfather, who served during the war; excerpts from letters of POWs; and life in the trenches.
Detailed descriptions of the scenes depicted in each stereographic photograph are included on the back of each card, so the viewer will understand exactly what he or she is seeing.
About the Author
Jean-Pierre Verney is a world-renown French historian, author, and collector of World War 1 memorabilia. He is the author of La Première Guerre Mondiale (2006), Récit de Guerre 1914-1918 (2012), and is a major contributor to the highly popular ongoing graphic novel series Putain de Guerre. He lives in France.
Michael Stephenson is an editor, military historian, and the author of numerous books, including The Last Full Measure: How Soldiers Die in Battle, Patriot Battles: How the War of Independence Was Fought, National Geographic's Battlegrounds: Geography and the History of Warfare, and The Nuclear Dictionary. Stephenson is also the former editor of the Military Book Club. He lives in New York City. 
Praise For Great War in 3D: A Book Plus a Stereoscopic Viewer, Plus 35 3D Photos of Men In Battle, 1914-1918…
The Great War in 3D: A Book Plus a Stereoscopic Viewer, Plus 35 3D Photos of Men in Battle, 1914- 1918.
Black Dog & Leventhal. Nov. 2013. 176p. photos. ISBN 9781579129538. $29.95. HIST

A magnetically closing box houses a folding viewer and reproductions of stereoscopic views of World War I, both to a smaller scale than the originals would have been. They work just fine, magically producing 3-0 views that document just about every angle of the war (they cover more than .. men In battle," and they extend beyond 1918), from its manpower to its equipment, trench works, battleships, hospitals, and home front parades before and after. The images are from the Allied perspective: those few of Germans show them either dead or as prisoners. The stereo photos and viewer are in flocked plastic housing that will not stand up to much handling, but the accompanying softcover book, The Album of the Great War, 1914- 1918, by JeanPierre Verney, is underneath this housing. It presents a chronological "news" format, but in the past tense like conventional history writing, as the war proceeds, and includes related context. In between the "news" are illustrated features on particular aspects of the war, such as the Americans joining in 1917.

VERDICT It's unclear if libraries will be able to keep control of this-it may be better as a gift-but it will be sure to foster interest in the war among general readers. Recommended. - Margaret Heilbrun (MH), Library Journal
or
Not Currently Available for Direct Purchase