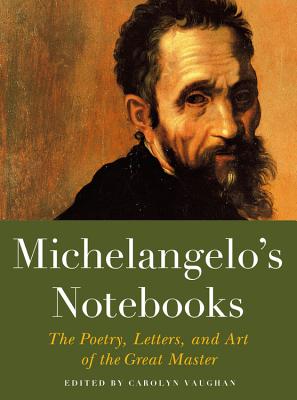 Michelangelo's Notebooks (Paperback)
The Poetry, Letters, and Art of the Great Master (Notebook Series)
Black Dog & Leventhal, 9781579129798, 384pp.
Publication Date: May 3, 2016
* Individual store prices may vary.
Description
Michelangelo's Notebooks is an intimate celebration of the artist's sketches, architectural drawings, letters, and love poems.

Michelangelo Buonarroti is considered to be one of the greatest artists of the sixteenth century, not only in painting but in writing and poetry as well. He filled hundreds of sheets of paper with exquisite drawings, many of which would eventually become some of the most celebrated masterpieces of all time, and he wrote over 300 poems and sonnets on admiration and spirituality.
Organized chronologically, Michelangelo's Notebooks is an illustrated record of the artist's life and work, and combines the artists's own words with his sketches and finished compositions. His letters about the Sistine Chapel and Pope Julius, for example, are illustrated with sketches that he produced while he was writing.
Edited and curated by Carolyn Vaughan, former editor at the Metropolitan Museum of Art, she provides fascinating commentary and insights into the material presented throughout the book.
About the Author
Carolyn Vaughan is a former editor at the Metropolitan Museum of Art in New York and at the Museum of Fine Arts in Houston. She has edited dozens of exhibition catalogues and compiled numbers of books. She is also the author of Gold and Frankincense and Myrrh: Gifts of the Magi; Invitation to Ballet; and three FANDEX Guides: The Great Western Painters, First Ladies, and New York City.