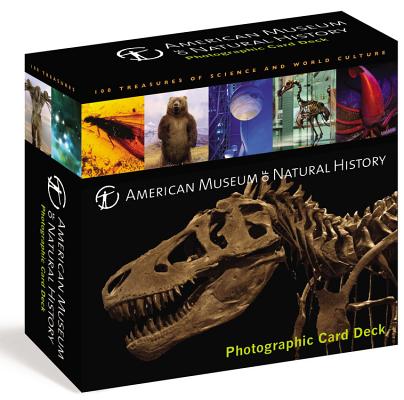 American Museum of Natural History Card Deck (Cards)
100 Treasures from the Hall of Science and World Culture
Black Dog & Leventhal, 9781579129941, 105pp.
Publication Date: May 19, 2015
Other Editions of This Title:
Hardcover (9/6/2016)
Paperback (1/10/2017)
Paperback (1/10/2017)
* Individual store prices may vary.
Description
Created in partnership with the world-renowned American Museum of Natural History, this beautiful, informative card deck captures, in pictures and words, 100 of the museum's most important artifacts, specimens, and exhibits—from a fossilized dinosaur's nest to the largest blue star sapphire in the world (563 carats!). 

The American Museum of Natural History (AMNH) is one of the world's preeminent natural history museums and research institutions. Its collections contain more than 32 million specimens of plants, humans, animals, fossils, minerals, rocks, meteorites, and cultural artifacts. Now, for the first time, this acclaimed collection is represented in a stunning and informative card deck featuring 100 treasures, hand-selected by the museum's curators, that encompass the most fascinating, iconic, and wide-ranging of the museum's artifacts.

The card deck covers each of the museum's major areas of exhibition, including Birds, Reptiles, and Amphibians; Earth and Planetary Science; Fossils; Human Origins and Culture; Mammals; Biodiversity and the Environmental; and the Hayden Planetarium. Some of the 100 objects include the Cape York Meteorite, discovered in Greenland in 1894; the Haida Canoe, built in 1878 by the Indians of the Pacific Northwest and carved from the trunk of a large cedar tree; the Blue Whale, a fiberglass replica of a 94-foot whale caught in 1925 off South George Island and the Warren Mastodon skeleton, the first complete mastodon skeleton discovered in the United States.

Each card presents a full-frame photograph of the object on the front and a 200-word description on the back that tells of the origin and age of the object and its scientific and historic significance. 
About the Author
The American Museum of Natural History (AMNH), located in New York City, is one of the world's preeminent scientific and cultural institutions. Since its founding in 1869, the Museum has advanced its global mission to discover, interpret, and disseminate information about human cultures, the natural world, and the universe through a wideranging program of scientific research, education, and exhibition. The museum is renowned for its exhibitions and scientific collections, which serve as a field guide to the entire planet and present a panorama of the world's cultures.
David Sobel was editorial director of Times Books, where he worked closely with Arthur Schlesinger on the American Presidents series of biographies. He lives in Montclair, New Jersey.
or
Not Currently Available for Direct Purchase