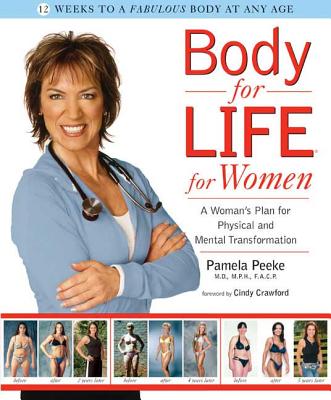 Body for Life for Women (Hardcover)
A Woman's Plan for Physical and Mental Transformation
Rodale Books, 9781579546014, 288pp.
Publication Date: April 16, 2005
* Individual store prices may vary.
Description
The bestselling Body-for-LifeTM program is now tailored just for women-to help them achieve dramatic weight loss and body-changing fitness in just 12 weeks!

The #1 New York Times bestseller Body-for-Life helped millions of people the world over to build stronger bodies and enjoy a higher quality of life. Now Pamela Peeke, M.D., M.P.H., bestselling author of Fight Fat After Forty, adapts the unique insights of the Body-for-Life program to the specific hormonal, metabolic, and physiological requirements of women so they can achieve the same life-transforming results.

Dr. Peeke draws on cutting-edge research as she fashions a 12-week eating, exercise, and emotional health program, specially tailored to women. Among the book's highlights:
o Stunning new before-and-after photographs with testimonials
o Over 100 black-and-white photographs demonstrating the exercises
o A Q&A section that anticipates and answers questions the reader might have

Dr. Peeke's appearances on Oprah, Larry King Live, Dateline, Primetime, Today Show, CNN Headline News, and other shows illustrate how inspirational she can be-and never more than in this book, motivating and instructing readers to make the changes that will produce a lifetime of mind and body fitness.
About the Author
PAMELA PEEKE, M.D., M.P.H. clinical assistant professor of medicine at the University of Maryland School of Medicine and adjunct senior research fellow at the National Institutes of Health, is a regular contributor to Good Housekeeping and is frequently quoted in magazines such as Self, Allure, Elle, Glamour, and Redbook. She is the medical advisor and spokesperson for Discovery Health's National Body Challenge, and the medical director for the National Women's Resource Center. She lives in Bethesda, Maryland.
Praise For Body for Life for Women: A Woman's Plan for Physical and Mental Transformation…
"This book is a really delightful kick in the pants. It's got everything you need to get the body that will get you through life in great shape." —Christiane Northrup, MD, author of Women's Bodies, Women's Wisdom and The Wisdom of Menopause

"Body-for-LIFE for Women is a book that truly incorporates nutrition, exercise and a sound mind to create a blueprint for staying healthy at every stage of life. Dr. Peeke has written a mind/body program which incorporates the newest science, her incredible expertise in helping women and her friendly tone to provide us with a plan for healthier living that really works!

Dr. Peeke explains that mental transformation is the foundation for physical change and that in order to achieve a healthier body, one must have the mindset for success. She explains why a woman's attitude about managing the stresses of life while honoring her mind and body are so very important.

This book is a winner and a true gift for women of all ages." —Kathie and Peter Davis, founders of IDEA Health and Fitness Association

"Body-for-LIFE for Women is a truly inspiring and comprehensive step-by-step guide to creating your best body and your best health. As you read this book it's obvious that Pam walks the talk: She pumps the iron, fuels her body well and has mastered the art of regrouping. Most importantly, she has inspired and mentored hundreds of women from young teens to women in their 90s. This book is sure to light a fire within you and set you on the right path of sound information and training tools so you, too, can totally transform your life and get in your best possible shape and enjoy your greatest happiness ever." —Barbara Harris, EVP/Editorial Director, SHAPE magazine

"Dr. Pamela Peeke is a giant in the field of wellness for women. In Body-for-LIFE for Women, ochshe shares with the reader the knowledge that has enabled her to achieve such prominence in this field. A must for any woman who wants to take responsibility for her own health and improve both the quantity and quality of her life--- for life." —Kenneth H. Cooper, M.D., M.P.H., founder, chairman & chief executive officer of The Cooper Aerobics Center

"In Body-for-LIFE for Women, Dr. Peeke is at her best. She motivates and inspires women of all ages to develop an integrated plan for healthier living, showing us how even very small changes can have lifelong implications. Dr. Peeke emphasizes that in a society when women so often care for others, it has never been more important to care for ourselves, using her Mind-Mouth-Muscle Formula." —Amy Niles, executive director, National Women's Health Resource Center

"Body-for-LIFE for Women is must reading for all women. Dr. Pamela Peeke is really the doc who walks the talk. She draws upon her expertise as a physician, scientist and athlete to provide the information and motivation that women need to begin the personal transformation that leads to optimal mind and body fitness - for life." —James Hill PhD, director, Center for Human Nutrition, University of Colorado and author of The Step Diet

"Dr. Pamela Peeke1s practical and holistic approach is an integral part of Discovery Health Channel's National Body Challenge, which has helped thousands of Americans remove weight, get fit and develop healthier lifestyles. Body-for-LIFE for Women is the manual for any woman seeking inspiration and realistic information and advice about fitness." —Eileen O'Neill, general manager, Discovery Health Channel
or
Not Currently Available for Direct Purchase