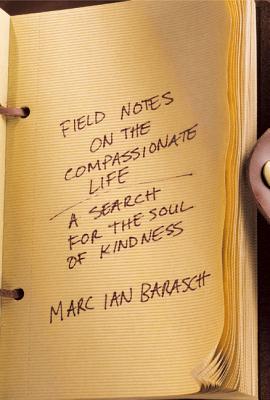 Field Notes on the Compassionate Life
A Search for the Soul of Kindness
Hardcover

* Individual store prices may vary.
Description
Marc Ian Barasch, dubbed "one of today's coolest grown-ups" by Interview magazine,
sets out on a journey to the heart of compassion. He discovers its power to change who we are and the society we have become. Compassion, he concludes, is "a prescription for authentic joy."

Can tapping into one simple human trait, hardwired into our nervous system and just waiting to be awakened, transform our lives and the world at large? Could it help us enjoy new levels of happiness and contentment? Exploring his subject through the multiple lenses of psychology and biology, pop culture and theology, history and philosophy, Barasch weaves a stirring, unforgettable account of his search to find within himself and others: the ability to live compassionately.

He examines such fascinating questions as: What can we learn from exceptionally empathetic people? Can we increase our kindness quotient with practice? How do we open our hearts to those who do us harm? What if the great driving force of our evolution were actually "survival of the kindest?"

Drawing from influences as disparate as Buddhist monks and skeptical neuroscientists, Barasch creates a riveting, persuasive argument that a simple shift in consciousness can have a tremendous, lasting impact on our psyches, our relationships, our health--and the very fate of the Earth.
Praise For Field Notes on the Compassionate Life: A Search for the Soul of Kindness…
"Writing in a friendly, upbeat voice, Barasch (Healing Dreams ) is never pious as he ponders the meaning of compassion, its healing properties and the wisdom of the compassionate, from St. Francis and the Dalai Lama to caring individuals in Barasch's own life. Touching on psychology, social science and evolutionary biology, Barasch, former editor-in-chief of New Age Journal , explores his theme in a lively autobiographical style, with firsthand reportage, such as living temporarily as a homeless person. The compassionate life is not only liberating, it genuinely feels good, he says. But how do we overcome our innately self-serving tendencies? Barasch finds among bonobo chimpanzees a model for caring group behavior that he believes undermines Darwin's evolutionary idea of the survival of the fittest. He reports on new research that shows how love and caring may actually drive the bodily system, and he converses with an extraordinarily altruistic kidney donor and a father who has forgiven the killer of his daughter. He also observes an Israeli-Palestinian peace initiative, and reconciliations in Rwanda. Melding accessible reportage with spiritual quest, Barasch's stirring account is thought-provoking and inspiring. (Mar. 28)Forecast: With a flurry of blurbs from the likes of Archbishop Desmond Tutu and Arianna Huffington, a 10-city author publicity/speaking tour and other media promotion, this unusual spiritual self-help book could rise above the pack." —Publisher Weekly (starred review)

"Searching for heart in a world celebrating the brain, Marc Ian Barash offers a refreshing look at what allows people to share feelings and what drives them to help those in need. The book is wide-ranging, erudite, and full of surprising insights into the behavior of the most empathic primate." —Frans de Waal, author of Our Inner Ape (Riverhead, 2005).

"Marc Ian Barasch's Fieldnotes on the Compassionate Life is an excellent and penetrating book. His argument for compassion is balanced yet persuasive, and long overdue. This book ought to be a compulsory read for all." —Archbishop Emeritus Desmond Tutu, Nobel Peace Prize Laureate

"Marc Barasch stands out as a bard of the human heart, spinning a gripping, thought-provoking, and entertaining tale as he explores the meandering paths of compassion. His Field Notes on the Compassionate Life offers an essential guidebook for anyone who cares deeply about the human condition, and about how we can help each other find our way through with love and guts." —Daniel Goleman, author of Emotional Intelligence

"In our post-nine-eleven world, compassion is no longer optional. Our future largely depends on it - and not just compassion toward one another, but also toward the earth and all its creatures. Describing how compassion unfolds in ordinary lives and transforms them is Barasch's great gift. Elegant, erudite, and profoundly gentle: this book is a shimmering jewel." —Larry Dossey, MD, author of The Extraordinary Healing Power of Ordinary Things, Reinventing Medicine, and Healing Words

"If I had to pick one skill that was most important for a negotiator --meaning everyone everyday -- it would be the ability to put yourself in the other side's shoes. In this extraordinary book -- part keenly observed field notes, part magical story-telling-- Marc Barasch helps us understand why and how this might be so, leading us deep into the mysteries of human and non-human compassion. Read on!" —William Ury, co-author Getting to Yes and author The Third Side

"Field Notes on the Compassionate Life is an honest, uplifting and humorous exploration of the terrain of kindness made manifest through care and connection. It serves as an important reminder of the vast potential that each of us shares." —Sharon Salzberg, author of Lovingkindness: The Revolutionary Art of Happiness.


"Powerful and engaging, Field Notes on the Compassionate Life is an extraordinary guidebook to the mysterious country we call the human heart. Whenever I travel there, I intend to take this book with me. I know it will enrich and deepen your journey as it has mine." —Mark Gerzon, president of Mediators Foundation and author of Leading Beyond Borders: Transforming Conflict Into Synergy

"Marc Barasch has shown the mind the way to embrace the compassion of the heart and the spirit. I was warmed by his words, past the intellect, into the large Compassion that holds us in the embrace of life." —Rabbi Zalman M. Schachter-Shalomi, author of Wrapped in a Holy Flame


"Forget "compassionate conservatism"--here is something refreshingly real, beyond right or left, just straight to the center of the human heart. If you want to help save the world today, then give someone--anyone--this startling, truthful, and passionate book about the power of being kind." —Arianna Huffington

"Marc Barasch's Field Notes is a perfect reminder on how to conduct one's life amidst the ever increasing chaos and lack of kindness in our society. His storytelling is captivating and, most importantly, I became more engaged in noticing opportunities to increase compassion and kindness around me -- creating those ripples that positively affect others and myself. A worthwhile read for anyone wishing to live a more wholesome life." —Stephan Rechtschaffen, founder of the Omega Institute
Rodale Books, 9781579547110, 368pp.
Publication Date: March 23, 2005
About the Author
MARC IAN BARASCH, an award-winning writer, editor, songwriter, and television producer is former editor-in-chief of New Age Journal, which won a National Magazine Award. He has appeared on "Good Morning, America," "The Today Show," and NPR's "All Things Considered," and has given workshops at Omega and Esalen Institutes. He lives in Boulder, Colorado.
or
Not Currently Available for Direct Purchase