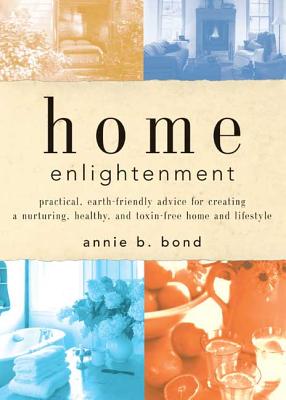 Home Enlightenment (Hardcover)
Practical, Earth-Friendly Advice for Creating a Nurturing, Healthy, and Toxin-Free Home and Lifestyle
Rodale Books, 9781579548117, 544pp.
Publication Date: September 25, 2005
* Individual store prices may vary.
Description
A comprehensive guide to creating a toxin-free, environmentally friendly home-with an eye toward bringing health and harmony to those living there and those on the earth as a whole.

Recent studies show that nearly one-third of American adults, or 63 million consumers, care deeply about health and environmental issues and the realization of human potential through a unity of mind, body, and spirit. Appealing directly to the Lifestyles of Health and Sustainability (LOHAS) market, this informative and practical guide helps readers tend to their living spaces in ecologically sound ways that protect the health and safety of their families and the world around them.

From selecting weekly produce to purchasing a water-filtration system, from using a steam cleaner or non-toxic pest controls to adjusting the energy in a home with crystals and aromatherapy, Home Enlightenment examines the environmental impact of choices a consumer makes, and helps readers establish day-to-day practices and a lifestyle that bring healing and natural spirituality into their homes.

The author, host of Annie's Healthy Living Network online, is one of the most trusted names in the health and environmental awareness field. Twice poisoned by chemicals as a young adult, Annie has become one of the champions of toxin-free living. Here she shares her story of recovery, renewal, and transformation as a guide for living in a healthier home environment.
About the Author
ANNIE B. BOND is the executive producer of Care2.com Healthy Living Channel and the web host of Annie's Healthy Living Network. She edits six e-newsletters that are sent to 1.8 million subscribers, writes an ongoing column for Body & Soul magazine, and is the author of Better Basics for the Home, The Green Kitchen Handbook, and Clean & Green. She lives in Rhinebeck, New York.
Praise For Home Enlightenment: Practical, Earth-Friendly Advice for Creating a Nurturing, Healthy, and Toxin-Free Home and Lifestyle…
"Home Enlightenment has the power to change the way we live and breathe. You will feel healed--and whole--just by reading this book: It's a beautiful thing. Annie B. Bond, mistress of the green household and expert on chemical poisoning, gives us remedies for the toxins that ail us. She spells out the ingredients for the good life and the illuminating benefits of sun and candlelight, and she identifies the quiet needs of the everyday. Stockpile copies of Home Enlightenment and give them to everyone you care about." —Amy Goldman, advocate for agricultural biodiversity and author of three books on heirloom vegetables: The Compleat Squash, Melons for the Passionate Grower, and The Heirloom Tomato

"Change is all about knowing what to change. We as a culture have much to change, and it's always a question how we should make those changes. In a style 'only Annie,' Annie opens the door to your home, reveals the invisible, and helps you weave necessary change into everyday life. I have followed Annie's sound advice for years." —Jeffrey Hollender, president of Seventh Generation, Inc.

"Leave it to Annie B. Bond to create the ultimate healthy-home, living-well guide with all the right ingredients--soothing solutions, sensuality, and a whole lot of good sense." —Wendy Gordon, founder of the National Geographic Society's Green Guide
or
Not Currently Available for Direct Purchase