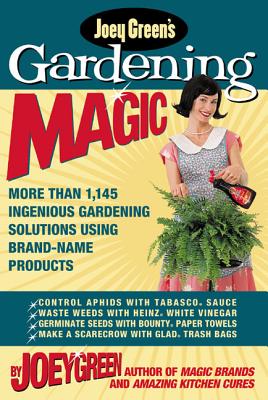 Joey Green's Gardening Magic: More Than 1,145 Ingenious Gardening Solutions Using Brand-Name Products (Paperback)
More Than 1,145 Ingenious Gardening Solutions Using Brand-Name Products
Rodale Books, 9781579548551, 384pp.
Publication Date: September 13, 2003
Description
Feed your plants Aunt Jemima(r) Original Syrup?
From the man who taught Jay Leno to shave with Jif(r) Peanut Butter and helped Rosie O'Donnell condition her hair with Reddi-wip(r) comes the first gardening book that tells you how to use the brand-name products sitting in your pantry right now to help you solve all your gardening problems.
The ever-inventive Joey Green returns with countless new ways to utilize products you'll find around your house-- saving yourself a trip (or trips ) to the garden center.
Joey Green's Gardening Magic is a treasure trove of inexpensive, quirky tips, like how to:
* Boost a compost pile with Coca-Cola(r)
* Control Japanese beetles with Wesson(r) Corn Oil
* Fertilize a lawn with Maxwell House(r) Coffee
* Protect tomato seedlings with Dixie(r) Cups
* Lubricate a lawn mower with Jif(r) Peanut Butter
* Deter deer with Bounce(r)
* Feed your flowers with Lipton(r) Tea Bags
And much, much more
* Control aphids with Tabasco(r) Sauce
* Waste weeds with Heinz(r) White Vinegar
* Germinate seeds with Bounty(r) Paper Towels
* Make a scarecrow with Glad(r) Trash B.
About the Author
Joey Green, guru of weird uses for brand-name products, is also the author of Joey Green's Amazing Kitchen Cures, Joey Green's Magic Brands, Polish Your Furniture with Panty Hose, as well as more than 20 other titles. Joey has appeared on The Tonight Show, Good Morning America, Today, The View, and The Rosie O'Donnell Show.
Advertisement