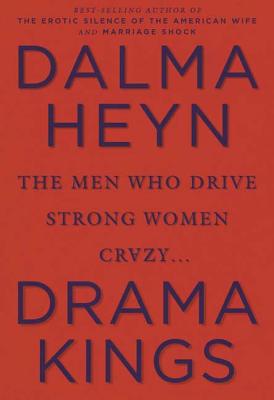 Drama Kings
The Men Who Drive Strong Women Crazy
Hardcover

* Individual store prices may vary.
Other Editions of This Title:
Paperback (10/17/2006)
Description
The bestselling author of The Erotic Silence of the American Wife is back with another provocative peek at women's secret lives.

Have you ever looked at one of your women friends and asked yourself, "She's so terrific--why is she with him?" In her newest book, Dalma Heyn examines a rising trend in today's relationships--the coupling of high-achieving women with men Heyn terms "Drama Kings," weaker men who are drawn to the women's strength but ultimately attempt to sabotage it. These men create chaos in relationships, driving the women crazy in the process.

Weaving examples from history, literature, and popular culture with clinical research she has conducted over several decades, Heyn illuminates an exploding phenomenon that's just reaching public consciousness. She details the telling traits of Drama Kings, such as "The Visitor," "The Proprietor," and "The Hit-and-Run Lover." She arms readers with the warning signs and offers strategies to handle the sagas that inevitably will develop in these relationships.

Heyn ultimately delivers a hopeful and encouraging message: More and more women, instead of leaving these draining relationships in despair and misery, are taking their experiences with Drama Kings and turning them to their advantage, emerging even stronger and better equipped to enjoy richer lives––whether on their own or with the true love non-Drama King who is on the horizon.
Praise For Drama Kings: The Men Who Drive Strong Women Crazy…
"Strong women, beware. You are more susceptible than most to the advances of the so-called "drama kings"—men for whom relationships always devolve into melodrama and rob the strength of the women involved. Heyn presents a compelling portrait of the five types of drama kings—toxic personalities and all." —The San Francisco Chronicle

"Ms. Heyn has a keen nose for social change. She has detected a plague of drama kings and records their pernicious attributes so that wary women can spot them in time and bar the door." —The New York Times

"Heyn probes a new trend: women who value independence and personal fulfillment above domesticity and wifely duty. Heyn describes take-charge women's changing expectations of what a relationship should be." —Psychology Today
Rodale Books, 9781579548889, 224pp.
Publication Date: November 5, 2005
About the Author
DALMA HEYN was a staff writer and articles editor at &Iedbook, editor-in-chief at Health magazine, and executive editor of McCall's before turning to writing full-time. Her earlier bestsellers, The Erotic Silence of the American Wife and Marriage Shock, sold in 20 countries, were excerpted in magazines all over the world and were hailed by critics as "thought-provoking," "provocative," "important and revolutionary." She lives in Westport, Connecticut.
or
Not Currently Available for Direct Purchase