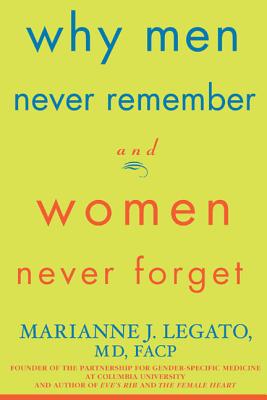 Why Men Never Remember and Women Never Forget
Hardcover

* Individual store prices may vary.
Other Editions of This Title:
Paperback (9/5/2006)
Description
Men and women ARE different . . . and this book from the founder of gender medicine uncovers the neuroscientific reasons behind age-old disputes between men and women, while providing a groundbreaking, authoritative, and reader-friendly guide to resolving these differences

Why won't he ask for directions? Why does she always want to talk about the relationship? Why can't he see that something is bothering her?* But perhaps the biggest questions Why Men Never Remember and Women Never Forget resolves are: Why is it so hard for men and women to understand each other . . . and what can we do about it?

According to Dr. Marianne Legato, an internationally recognized expert in gender-specific medicine, male and female brains are chemically and structurally different. And scientists are now finding out how these differences cause us to approach problems and experience the world in such dissimilar ways.

So how do we bridge this physiological gap? Dr. Legato provides strategies and tips for learning to "think" like the other sex in order to get past our differences-and offers smart advice for dealing with issues wherever they arise. This trailblazing book will enable readers to understand each other-in both personal and professional relationships-like never before.
Praise For Why Men Never Remember and Women Never Forget…
"An indispensable aid for improving relationships between men and women and a primer for understanding the opposite sex. Finally, we have a Rosetta stone to break the code and help decipher the opposite sex." —Mehmet Oz, M.D., author of You: The Owner's Manual

" Reading this book is a total "aha" experience from start to finish. As a therapist and scientist, I cannot begin to describe how helpful it will be to anyone who has ever been perplexed/angered/confused/ or frustrated by anyone of the opposite sex. As Dr. Legato says in the book, knowing the why of their behavior makes it easier to take, and leads to understanding, compassion, and healthier relationships. This is truly a must-have for anyone in any sort of relationship with the opposite sex. " —Alice Domar, M.D., author of Self-Nurture and Healing Mind, Healthy Woman
Rodale Books, 9781579548971, 272pp.
Publication Date: August 15, 2005
About the Author
MARIANNE J. LEGATO, MD, FACP, is a professor of clinical medicine at Columbia University, where she founded and heads the Partnership for Gender-Specific Medicine. One of the world's foremost experts on gender medicine and winner of many awards for her work, she is the author of The Female Heart, What Women Need to Know, and Eve's Rib.
or
Not Currently Available for Direct Purchase