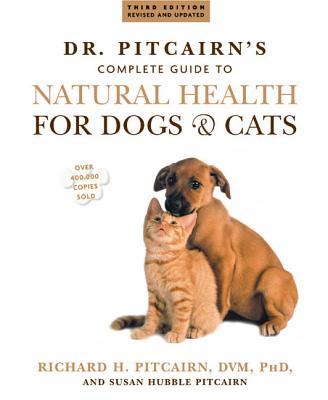 Dr. Pitcairn's Complete Guide to Natural Health for Dogs & Cats
Paperback

* Individual store prices may vary.
Description
Over 400,000 copies of Dr. Pitcairn's Complete Guide to Natural Health for Dogs & Cats have been sold since its original publication more than 20 years ago

The book that is the definitive guide to a natural lifestyle for dogs and cats is now completely updated and revised--for the first time in 9 years. Writing with the warmth and compassion that have won them a national following, veterinarian Richard H. Pitcairn and his wife Susan Hubble Pitcairn, noted specialists in chemical-free nutrition and natural healing for pets, show dog and cat owners how to provide the very best in companionship and lifelong care.

They now cover environmental matters, including pollutants both inside the home and out, as well as recent hot-button topics, such as Mad Cow disease, Lyme disease, and the West Nile virus. They've updated dozens of recipes for delicious and healthful pet food and treats. With a guide to handling emergencies and an in-depth "Quick Reference" section, they give specific instructions for preventing, diagnosing, and treating a wide range of animal diseases and disorders-with special attention to homeopathic, herbal, and nutritional remedies.
Praise For Dr. Pitcairn's Complete Guide to Natural Health for Dogs & Cats…
"A must-have for pet owners interested in a natural lifestyle for their pets." —Amazon.com

"Pets have never had it so good!" —Michael W. Fox, former vice president of the Humane Society

"For many of my clients, Dr. Pitcairn's book is their trusted holistic health guide for their canine and feline companions needs, full of practical pointers for the concerned caregiver"a must read for those embarking on the worthwhile journey towards restoration of their pets' health and happiness. This new edition is a must-have for the pet care library." —David Evans, DVM, CVH, Natural Care Clinic for Pets

"Would you like your dog and cat to live a longer healthier life? This easy to use and well researched book is a must for you. Every one of my holistic clients has Dr. Pitcairn's book and many have told me how frequently they read it for treatment of minor problems, nutritional information and how to make lifestyle choices to improve health for themselves, their animals and our planet." —Dr. Christina Chambreau, Homeopathic Veterinarian and author of the Healthy Animal's Journal

"The third edition of this "landmark" text is welcome, and will take up space on my bookshelf, as well as the bookshelves of many of my colleagues and clients." —Carvel G. Tiekert, DVM, Founder, American Holistic Veterinary Medical Association

"Dr. Richard Pitcairn again demonstrates why he is so respected in his field. This book should be required reading for anyone seeking true, lasting health for their animals and will continue to be a must-read for my clients." —Larry A. Bernstein, VMD

"I anticipated that this 3rd edition would be a thorough and thoughtfully-written guide to natural health care for animals, packed full of useful information and practical tips. My expectations were exceeded! Dr. Pitcairn has a wonderful way of making both basic principles and complex topics fresh and reader-friendly, all the while gently raising questions that encourage thinking and re-thinking conventional "wisdom" in companion animal care. Who should read this book? Those just embarking on the path of natural health for their pets, those who have been on this path for years, and every holistically-minded veterinarian who wants to understand root causes of disease and expand his or her repertoire of treatments that truly support and help restore health. Although I have used and recommended the earlier edition of this book in my practice for years, I plan to make this new edition required reading for my clients!" —Lynn S. Peck, DVM, MS Holistic veterinarian and researcher

"Once again Dr. Pitcairn has given animal caretakers the definitive how-to for a healthier, more natural and holistic approach to animal health. This up-dated edition, in his easy-to-read, story-telling style, has added information on diet and vaccinations based on recent research. The results achieved in animal well-being by incorporating the dietary, herbal and homeopathic information provided in previous editions have spoken for themselves. The new information contained in this new edition will raise the quality of our companion animal health just that much higher." —Dr. Kimberly Henneman, DVM
Rodale Books, 9781579549732, 480pp.
Publication Date: September 3, 2005
About the Author
Richard H. Pitcairn, DVM, PhD, is a graduate of the University of California, Davis, and Washington State University. Since establishing his private practice in homeopathic veterinary medicine, he opened a clinic offering only holistic animal care, in Eugene, Oregon.

Susan Hubble Pitcairn was the driving force for the completion of the first edition of this book.
or
Not Currently Available for Direct Purchase