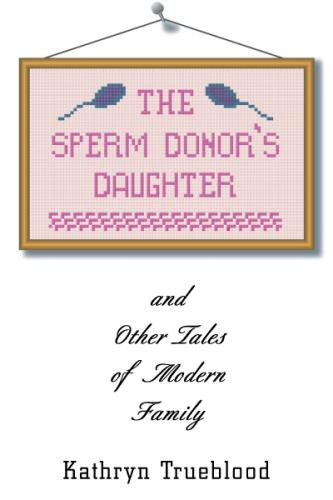 The Sperm Donor's Daughter
Paperback

* Individual store prices may vary.
Praise For The Sperm Donor's Daughter…
From Publishers Weekly
"I make up terms now, and I think former is nicer than ex: ex-wife, ex-step-brother, ex-step-sister-father-mother. That is if you want to keep them in your permanent collection." The permanent collections of scattered families haunt the six stories of this muted debut about characters who search, mostly in vain, for relationships with which to anchor their lives. A lonely woman mulls over her affectionate but ominous childhood with her brother. A married woman ends the affair that promised love instead of security. A widower makes a second go at marriage in the shadow of his first wife's suicide. The bulk of the book is made up of the title novella, in which a 20-year-old pregnant woman discovers the truth about her father and leaves home in search of her past. Although Trueblood relies too much on roughly indistinguishable, self-pitying points of view and maudlin turns of phrase, she surprises even the impatient reader with the occasional well-observed image: "Wood smoke chugs from the chimneys without making a difference to the sky: gray, gone gray, all gray"?a phrase that describes all-too-well the heart of this collection.
Copyright 1998 Reed Business Information, Inc. --This text refers to an out of print or unavailable edition of this title.

From Kirkus Reviews
A novella and five stories by a stylist who takes to a fare- thee-well Virginia Woolf's idea that women deserve their own sort of sentence and subject matter--those that don't march to a male rhythm--and their own moody, subliminal subject matter. In the surreal expressionism of Trueblood's debut collection, sense does indeed go up into vapor, sometimes. But this is the kind of crosswired writing that at the very least leads to somewhere new and never rolls dully down the groove of good sensible storytelling in little sermonizing sentences. The standout is the 100-page title piece, whose notably clearer style puts to shame the remaining lesser stories, which morph awkwardly like a batch of polliwogs into would-be frog princes. Jessie, 20 and pregnant, finds that her lesbian mother has been fibbing to her for all of her life: Her father didn't die in battle before Jessie was born. Instead, she's the product of artificial insemination by a med student sperm-donor who received the grand sum of 40 dollars for his bodily fluid. Jessie quickly spots her father in a class yearbook, tracks him down, breaks into his summer cabin, and lives there for a week on her own. Then she phones him, without revealing her identity, and gets an appointment to have her pregnancy checked over. Meanwhile, Nigel, the 40-year-old who got Jessie with child and then split, comes to visit her mom at the motel she manages and tries to straighten things out--in a scene that erupts with wisdom about who is responsible for what in a pregnancy. The climax is the snappish dialogue visited by Jessie upon her surprised biological father. As for the shorter stories, they show family life geysering in images summoned from the collective unconscious. Synaesthetic prose, all roses crushed with daisies, and not for the fainthearted. -- Copyright ©1998, Kirkus Associates, LP. All rights reserved. --This text refers to an out of print or unavailable edition of this title.
Permanent Press, 9781579620530, 166pp.
Publication Date: July 1, 1998
About the Author
Kathryn Trueblood has been awarded the Goldenberg Prize for Fiction and the Red Hen Press Short Story Award. Her work is situated firmly in the medical humanities. Her most recent book, Take Daily As Needed, treats parenting while chronically ill with the desperado humor the subject deserves (University of New Mexico Press, 2019). Her previous novel, The Baby Lottery, dealt with the repercussions of infertility in a female friend group (a Book Sense Pick in 2007). Her story collection, The Sperm Donor's Daughter, takes a look at assisted reproduction and received a Special Mention for the Pushcart Prize in 2000. Trueblood's stories and articles have been published in Poets & Writers Magazine, the Bellevue Literary Review, the Medical Literary Messenger, Blood and Thunder, The Los Angeles Review, Glimmer Train, The Seattle Review, Zyzzyva, and others. She is a professor of English at Western Washington University and a faculty member of The Red Badge Project.
or
Not Currently Available for Direct Purchase