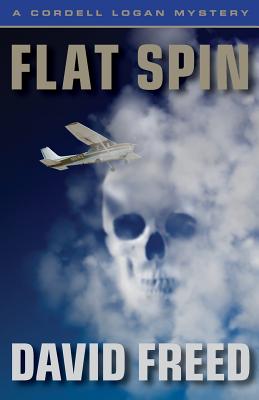 Flat Spin (Hardcover)
The Permanent Press, 9781579622725, 256pp.
Publication Date: May 15, 2012
* Individual store prices may vary.
Description
Based in sunny Rancho Bonita - "California's Monaca" as the city's moneyed minions like to call it - Cordell Logan is a literate, sardonic flight instructor and aspiring Buddhist with dwindling savings and a shadowy past. When his beautiful ex-wife, Savannah, shows up out of the blue to tell him that her husband has been murdered in Los Angeles, Logan is quietly pleased. Savannah's late husband, after all, is Arlo Echevarria, the man she left Logan for.



Logan and Echevarria were once comrades-in-arms assigned to a top-secret military assassination team known as "Alpha." The only problem is, the LAPD can find no record of Echevarria ever having toiled for Uncle Sam. Savannah wants Logan to tell the police what he knows. At first he refuses, but then, relying on his small, aging airplane, the "Ruptured Duck," and the skills he honed working for Alpha, Logan doggedly hunts Echevarria's killer.



His trail takes him from the glitzy Las Vegas Strip to the most dangerous ghettos of inner-city Oakland, from darkened, Russian mafia haunts in West Los Angeles to the deserts of Arizona. But that's the least of his problems. It is his love-hate relationship with Savannah, a woman Logan continues to pine for in spite of himself, that threatens to consume him.



Transcending the worlds of murder, aviation and international counter-terrorism, FLAT SPIN resonates with a veracity that only an author who knows his subject first-hand can deliver.
Praise For Flat Spin…
"Freed manages to introduce into his debut mystery lots of technology without tedious detail. Logan is a wisecracking on-the-wagon protagonist who finds his violent past still has its uses. This series launch is a delightful romp through the familiar hard-boiled scene with a literate hero who admits he is so far failing to find tranquility with the Buddha. Highly recommended" - Library Journal, starred review



"Freed is a superb writer. His prose is at once muscular and musical – and sometimes verges on poetry. And he mixes a hard-boiled attitude with flashes of wry humor. The riveting plot and fine prose are sure to make "Flat Spin" one of the best debuts of 2012."- Bruce DeSilva, Huffington Post



"Pulitzer-winning reporter Freed brings his knowledge of aviation, the military and law enforcement to his fiction debut. His story is full of interesting episodes and feels authentic..." - Kirkus



"Freed, who shared a Pulitzer Prize for the L.A. Times' coverage of the Rodney King riots, capably balances humor and serious themes." - Publishers Weekly



"...the real appeal here lies both in Cordell's wise-cracking persona (there's a definite touch of Robert B. Parker's Spenser) and in the flight scenes, melded seamlessly into the story. Has there been a pilot-sleuth since Sky King, star of the 1950s TV series? There is one now, and he's a keeper." - Booklist



"Freed is the kind of writer that once the reader picks up the book, it is virtually impossible to put down." - Portland Book Review



"...this is one of those books you read for the sheer joy of the way the words are arranged on the page... this is one of those crime thrillers that, when you get to the last page, you find yourself saying, "Damn! It's over."" - Pacific Flyer Magazine
or
Not Currently Available for Direct Purchase