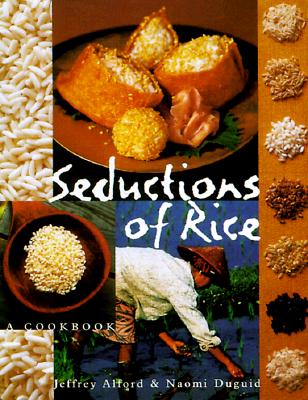 Seductions of Rice
A Cookbook
Hardcover

* Individual store prices may vary.
Other Editions of This Title:
Paperback (4/5/2003)
Description
With a depth of passion and experience, and an ability to embrace and convey richness of place and taste, the authors of the groundbreaking
Flatbreads and Flavors
and the later award-winning
Hot Sour Salty Sweet
embarked on a far-reaching excursion to find the world's most essential and satisfying food. Along the way, they experienced firsthand dozens of varieties of rice, offering unimaginable subtleties of taste, as well as a staggering array of foods to accompany them, all providing a simple way to get flavor and variety on the table.
Seductions of Rice is the glorious result: two hundred easy-to-prepare dishes from the world's great rice cuisines, illuminated by stories, insights, and more than two hundred photographs of people, places, and wonderful food. Cherished dishes--Chinese stir-frys, Spanish paellas, Japanese sushi, Indian thorans, Thai salads, Turkish pilafs, Italian risottos--are shared not just as recipes, but as time-honored traditions.
Seductions of Rice will change the way we eat, the way we prepare and appreciate our food. It's as easy as putting a pot of rice on to cook!
Artisan, 9781579651138, 454pp.
Publication Date: October 1, 1998
About the Author
Jeffrey Alford is a writer and photographer based primarily in northeast Thailand and Cambodia. He plants and harvests rice each year; helps raise frogs and several varieties of fish; and happily struggles along in three languages: Central Thai, Lao Isaan, and Northern Khmer. His forthcoming book, to be published in 2014, is tentatively titled How Pea Cooks: Food and Life in a Thai-Khmer Village. His earlier books, all co-written with Naomi Duguid, are Flatbreads and Flavors;HomeBaking; Seductions of Rice; Hot Sour Salty Sweet; Mangoes and Curry Leaves; and Beyond the Great Wall. Jeffrey is currently developing a series of intensive culinary tours through northeastern Thailand and western Cambodia (the Angkor Wat area) under the name of Heritage Food Thailand.
Naomi Duguid is a writer, photographer, teacher, cook, and world traveler. Her most recent cookbook, Burma, brought news of a long-forgotten part of the world and was winner of the 2013 IACP Cookbook Award for Culinary Travel and the Taste Canada Food Writing Award. Her previous award-winning titles, co-authored with Jeffrey Alford, include Flatbreads & Flavors: A Baker's Atlas, their first book, which won a James Beard Award for Cookbook of the Year; Seductions of Rice; Hot Sour Salty Sweet, also a James Beard Cookbook of the Year; Mangoes & Curry Leaves; and Beyond the Great Wall.

Duguid's articles and photographs appear regularly in Lucky Peach, Food & Wine, and other publications. She is a frequent guest speaker and presenter at food conferences. She is the host of Toronto's Food on Film series and has a strong online presence (Twitter and Facebook). Her stock photo agency, Asia Access, is based in Toronto, where she lives when she is not on the road.
or
Not Currently Available for Direct Purchase