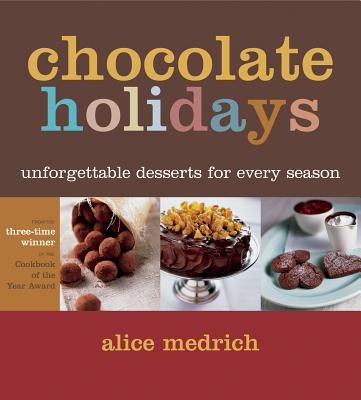 Chocolate Holidays
Unforgettable Desserts for Every Season
Paperback

* Individual store prices may vary.
Description
Dramatic, seductive, playful, infinite in its variety, otherworldly in its taste: It's chocolate, and here's all the impetus you need to indulge your passion for it every day of the year. The beloved Alice Medrich, renowned for impeccable recipes that produce stellar results, has written Chocolate Holidays especially for people who love to bake but don't have enough hours in the day. Without compromising on flavor, texture, or ingredients, she pares down the preparation steps, teaches us resraint, and comes up with fifty amazing recipes, each a little jewel of elegance and simplicty.

An ideal year in chocolate might start with a New Year's brunch starring Chocolate Blini with Berry Caviar. Then there are Valentine's Day chocolate scones and St. Patrick's Day Irish Coffee Chocolate Mousse. And of course any "holiday" your imagination can conjure up is a perfect reason to indulge: perhaps a decadently rich hot chocolate served in demitasse portions to exorcise those end-of-February blues.

Spring might whisper chocolate Giant Krispy Easter Treats or a Passover Chocolate Nut Sponge Torte, or white chocolate-glazed Apricot Orange Cupcakes for a wedding shower. Summer suggests fruit and ice cream desserts such as the Independence Day red, white, and blue sundaes, followed by autumn's pies and tarts laden with chocolate and nuts. And no matter what you've been putting on the table for Thanksgiving and Christmas holidays past, it will be out-chocolated by Alice's Chocolate Cranberry Pudding and her Chocolate Hazelnut Roulade—both unequivocally year-end musts.

In Chocolate Holidays, Medrich unlocks the secrets of our favorite sweet, offering chocolate desserts for every season, for every reason.

First published in hardcover as A Year in Chocolate (Warner Books, 2001)
Artisan, 9781579652906, 152pp.
Publication Date: October 1, 2005
About the Author
Alice Medrich has won more cookbook-of-the-year awards and best in the dessert and baking category awards than any other author. She received her formal training at the prestigious École Lenôtre in France and is credited with popularizing chocolate truffles in the United States when she began making and selling them at her influential Berkeley dessert shop, Cocolat. She has devoted much of her career to teaching and sharing her expansive knowledge about baking. Find her on Instagram and Twitter @alicemedrich.
 
or
Not Currently Available for Direct Purchase