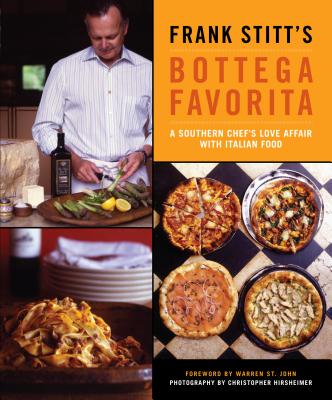 Frank Stitt's Bottega Favorita (Hardcover)
A Southern Chef's Love Affair with Italian Food
Artisan, 9781579653026, 269pp.
Publication Date: January 1, 2009
* Individual store prices may vary.
Description
There are some places worth traveling to just for the food: Rome, Venice . . . and now, Birmingham, Italy.

In this companion to his first, best-selling cookbook, the beloved Southern chef Frank Stitt travels to Italy and brings the best of Mediterranean cuisine back home. To Stitt's mind, the two regions—Italy and the American South—share commonalities. Both native cuisines have a tradition of turning humble ingredients—ground corn, bitter greens, cured pork, the daily catch—into poetry on the plate. And as the chef points out in his lively introduction to the book, this is elemental cooking based on the purity and simplicity of the freshest and finest ingredients.

Yet leave it to Stitt to make Italian cuisine his own. "There's no Pompano in Venice, but ours, fresh from Apalachicola, fits into the cartoccio (Italian fish stew) perfectly; our Chilton County white peaches are squeezed by hand for a bellini; our wild Gulf shrimp, oysters, crab, and fish are easily a match for their Mediterranean equivalents," Stitt writes. This appealing new cookbook includes the best of the Southern-influenced Italian recipes he has served at his Birmingham, Alabama, restaurant Bottega Restaurant and Café, for the last two decades—the Tomato Chutney and Roasted Sweet Pepper Pizza, Lamb Shanks with Sweet Peas and Mint, and fabulous desserts including Zabaglione Meringue Cake. Accompanied by sweet recollections of his journeys to Italy, this inspiring and accessible cookbook proves once again why the novelist Pat Conroy calls Stitt "the best chef in America."
About the Author
Frank Stitt is the chef and owner of Highlands Bar and Grill—which won the 2018 James Beard Awards for Outstanding Restaurant and Outstanding Pastry Chef—Bottega Restaurant and Café, and Chez Fonfon, all located in Birmingham, Alabama. He has won the James Beard Award for the Best Chef of the Southeast and has been inducted into the James Beard Foundation's "Who's Who of Food and Beverage." He received the Lifetime Achievement Award from the Southern Foodways Alliance for his elevation of Southern cuisine and his early advocacy of locally grown food. He is the author of Frank Stitt's Southern Table and Frank Stitt's Bottega Favorita.