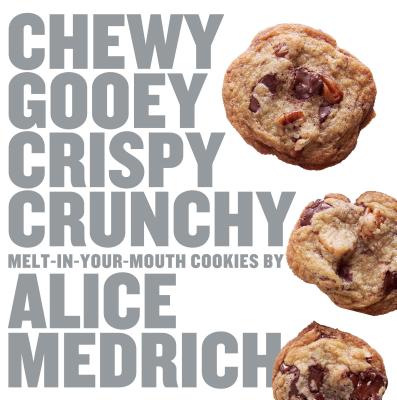 Chewy Gooey Crispy Crunchy Melt-in-Your-Mouth Cookies by Alice Medrich (Paperback)
Artisan, 9781579653972, 384pp.
Publication Date: November 12, 2010
* Individual store prices may vary.
Description
 2010 IACP Baking Book of the Year

With recipes organized by texture! Flaky, gooey, crunchy, crispy, chewy, chunky, melt-in-your-mouth . . .

Cookies are easy, enticing, and fun. Yet as the award-winning baker Alice Medrich notes, too often, home cooks cling to the recipe on the bag of chocolate chips, when so much more is possible. "What if cookies reflected our modern culinary sensibility—our spirit of adventure and passion for flavors and even our dietary concerns?" Medrich writes in her introduction to this landmark cookie cookbook, organized by texture, from crunchy to airy to chunky.  An inveterate tester and master manipulator of ingredients, she draws on the world's pantry of ingredients for such delicious riffs on the classics as airy meringues studded with cashews and chocolate chunks, palmiers (elephant's ears) made with cardamom and caramel, and rugelach with halvah. Butter and sugar content is slashed and the flavor turned up on everything from ginger snaps to chocolate clouds. From new spins on classic recipes including chocolate-chip cookies and brownies, to delectable 2-point treats for Weight Watchers, to cookies to make with kids, this master conjurer of sweets will bring bliss to every dessert table.
About the Author
Alice Medrich is the winner of five James Beard Foundation Awards, most recently Best Baking & Dessert Book of the Year for her tenth cookbook, Flavor Flours (Artisan Books, November 2014). She received her formal training at the prestigious École Lenôtre in France and is widely credited with popularizing chocolate truffles in America. Medrich writes for Food52.com and teaches online baking courses at Craftsy.com. She lives in Berkeley, California.
Praise For Chewy Gooey Crispy Crunchy Melt-in-Your-Mouth Cookies by Alice Medrich…
"Alice Medrich has moved the ball of dough forward with CHEWY GOOEY CRISPY CRUNCHY MELT-IN-YOUR-MOUTH COOKIES, rethinking everything she baked, rebooting classics and modernizing techniques. Above all, Medrich is determined to make us better bakers."
—The New York Times
 
"The new cookie bible."
—Ted Allen, quoted in Food Network Magazine
 
"[Medrich] meticulously reworks old timers such as chocolate chip cookies and Linzer cookies and introduces newcomers like fresh thyme tuiles, and figures out how to perfect them."
—The Wall Street Journal
 
"Cookie lovers of every stripe will find much to love in baking icon Alice Medrich's new book . . . Medrich tweaks all the beloved classics to perfection—from brownies and blondies to shortbread and snickerdoodles—and then offers compelling flavor variations, ensuring that both the cookie purist and the iconoclast are satisfied."
—Fine Cooking
 
"This hefty softbound volume gets my vote as the best of the batch."
—San Diego Union Tribune
 
"Chewy Gooey Crispy Crunchy Melt-in-Your-Mouth Cookies is a must-have for devoted cookie bakers, whether beginners or experts. It's the kind of cookbook you might curl up with on the sofa, for inspiration, and follow closely in the kitchen, for foolproof results."
—Dallas Morning News
 
"With abundant mouthwatering color pictures, Chewy, Gooey is deliciously educational."
—Charleston Post and Courier

"Medrich presents a compendium of exciting and enticing cookie recipes that reflects every aspect of our widening culinary landscape. Whole-grain flours as well as wheat-free alternatives are becoming more and more prevalent, and people are more often exposed and open to exotic spices and unique flavor combinations. Nibby buckwheat butter cookies, golden kamut shortbread, honey hemp bars, and whole wheat biscotti showcase whole-grain flours, while wheat-free versions of rugelach, toffee bars, butter cookies, and caramel cheesecake bars (just to scratch the surface) aim to please an increasing number of gluten-intolerant dessert lovers. There's a good chunk of dairy-free cookies as well as lower-fat versions (two Weight Watchers points, to be exact). Comfortingly, there are also homey recipes for classic peanut butter cookies, cakey brownies, and rocky road bars. Flavor combos are intriguing, as in the wheat-free grapefruit and basil butter cookies, aniseed and almond shortbread, and nutty cocoa cookie bark with Parmesan and sea salt. The recipes are organized by texture, hence the title, but there's also a section grouping cookies into categories like those containing whole grains, those that keep at least two weeks, ridiculously quick and easy cookies, and cookies to make with kids. This book has redesigned and reframed the often-overlooked cookie and is a boon to the modern, conscious baker."
—Publishers Weekly

"Textures, as her title shouts out, drive Medrich's latest, more-than-130-recipe-filled cookie collection. Crispy? Try ginger Florentines and lavender tuiles. Crunchy means biscotti and nut slices. Oatmeal and honey hemp stands for chewy. As for gooey, flaky, and melt-in-your-mouth? Check out brownies in many flavors, rugelach, and the resurrected French macarons. Medrich sets the table by insisting (insofar as the written word can) that readers first review the user's guide, a handy compendium of critical FAQs (e.g., how soft is softened butter?), an index of categories (e.g., whole grain, quick and easy, etc.), and troubleshooting details (e.g., the biggest issue with not-great cookies: too much flour). She carefully prepares bakers for success, including upgrades for most recipes (read variations) and notes about specific types, such as biscotti, tuiles, phyllo dough, and macarons. Last is her tech-support chapter, which wraps up her teachings on ingredients, equipment, and resources. It's time to turn on the oven."
—Booklist
 
"Medrich presents a compendium of exciting and enticing cookie recipes that reflects every aspect of our widening culinary landscape. This book has redesigned and reframed the often-overlooked cookie and is a boon to the modern, conscious baker." - Publishers Weekly
— Publishers Weekly Staff