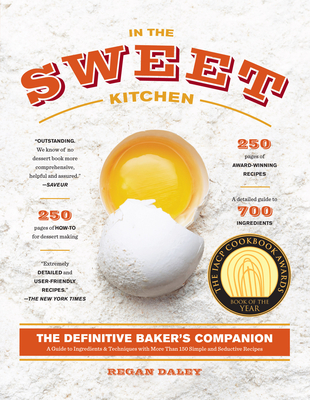 In the Sweet Kitchen (Paperback)
Artisan, 9781579654276, 704pp.
Publication Date: April 5, 2010
* Individual store prices may vary.
Description
The renowned IACP Cookbook of the Year—now in paperback!

What makes a book so special and deserving that it gets chosen cookbook of the year? It's the wealth of information, the experienced voice, the eagerness to share. Celebrated pastry chef Regan Daley unravels the mystery of the baking process, explaining the "how" and "why" behind the components that go into making the perfect dessert, and provides the tools and information home bakers need to create delicious recipes of their own—in their own sweet kitchens.

Regan shows us that anyone, from complete culinary virgins to accomplished dessert-makers, anyone can make a fantastic dessert. The secret is in the ingredients. Her more than 140 original recipes, straightforward enough for any home baker to prepare, focusing on simple techniques with an emphasis on high-quality ingredients, range from the awfully impressive, Guava Cheesecake or Quince and Brioche Bread Pudding with Dried Sour Cherries, to the familiar—Really, REALLY Fudgey Brownies or World's Sexiest Sundae.

For experts, this book will serve as a comprehensive, professional-quality reference of ingredients from basic to rare and an incredible collection of unique flavorings. For the novice, it's a practical and palatable guide to the once mysterious art of baking.

About the Author
Regan Daley is a writer and former pastry chef. During her career in the kitchen, she worked at some of Toronto's most prominent restaurants, including the celebrated Avalon (named by Gourmet magazine as one of the best in North America) where her elegant and original dessert creations, such as the Valrhona Molten Chocolate Cakes, quickly became household words. Her work has appeared in Bon Appetit, Fine Cooking, Country Home, and Gourmet magazines, among others. She currently lives in Toronto with her husband, three boys, and a food-phobic dog. Visit her blog at www.regandaley.com


Praise For In the Sweet Kitchen…
"Daley's International Association of Culinary Professionals (IACP) Award winner is the definitive guide to all the equipment, techniques, and indgredients a baker uses."