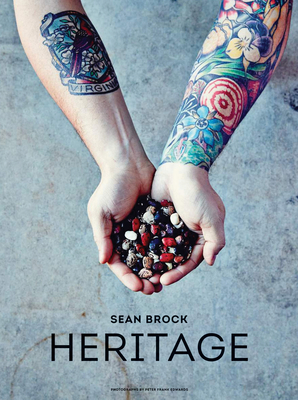 Heritage
Hardcover

* Individual store prices may vary.
Description
New York Times best seller
Winner, James Beard Award for Best Book in American Cooking
Winner, IACP Julia Child First Book Award
 
Named a Best Cookbook of the Season by Amazon, Food & Wine, Harper's Bazaar, Houston Chronicle, Huffington Post, New York Times, Philadelphia Inquirer, Pittsburgh Post-Gazette, Vanity Fair, Washington Post, and more

Sean Brock is the chef behind the game-changing restaurants Husk and McCrady's, and his first book offers all of his inspired recipes. With a drive to preserve the heritage foods of the South, Brock cooks dishes that are ingredient-driven and reinterpret the flavors of his youth in Appalachia and his adopted hometown of Charleston. The recipes include all the comfort food (think food to eat at home) and high-end restaurant food (fancier dishes when there's more time to cook) for which he has become so well-known. Brock's interpretation of Southern favorites like Pickled Shrimp, Hoppin' John, and Chocolate Alabama Stack Cake sit alongside recipes for Crispy Pig Ear Lettuce Wraps, Slow-Cooked Pork Shoulder with Tomato Gravy, and Baked Sea Island Red Peas. This is a very personal book, with headnotes that explain Brock's background and give context to his food and essays in which he shares his admiration for the purveyors and ingredients he cherishes.
Praise For Heritage…
"The blue ribbon chef cookbook of the year, without a doubt, is Sean Brock's Heritage. . . . Sometimes a cookbook changes the way you think about food you thought you understood, and this is one of those books."
—New York Times Book Review

"Heritage, the first cookbook by Sean Brock, chef at the extraordinary restaurant Husk, in Charleston, South Carolina, is equal parts chronicle of Husk's best dishes and survey of the local agricultural landscape."
—Saveur
 
"Modern down-home cuisine."
—InStyle
 
"Stunning photos and rustic-glamorous recipes."
—Fine Cooking

"Brock is . . . the poet laureate of the kitchen. His cookbook doesn't just give us recipes; it roots itself in Southern culture."
—SouthernLiving.com
 
"Elevates the homey . . . and talks straight about basics."
—People
 
"Delectable."
—Travel + Leisure
 
"Heritage is a journey that will inspire you to understand your own region's terroir, and the people and practices behind the food that fills your plate."
—Taste of the South
 
"A celebration of Southern ingredients, this ambitious debut provides insight into a notable chef's carefully crafted cuisine. Highly recommended."
—Library Journal

"Sean Brock has redefined what American food is. Heritage celebrates the narrative of Lowcountry cooking and tells a story that continues to inspire."
—David Chang, chef/owner, Momofuku
    
"Sean Brock is one of the most important chefs in America. In looking back at the roots of our cuisine, while always also looking forward, he's changing the face of American food in wonderful ways. Heritage will thrill, surprise, and delight as readers discover what a rich, glorious, and delicious culinary history we once had—and, thanks to chefs like Sean, will surely have again. He is an absolutely transformative figure. His food manages to amaze without ever being pretentious or inaccessible. You, too, can cook this stuff. And you should."    
—Anthony Bourdain

"Sean Brock is a culinary explorer—gifted, passionate, creative. This captivating book reveals Sean's unique brilliance for merging the essence of the past with the promise of the future. This is an electrifying work and to read it is to witness the advent of a new era in American cooking."
—Frank Stitt, chef/owner and author of Frank Stitt's Southern Table

"Sean is one of the most passionate, talented chefs I know. His food is inspiring, enlightening, and so damn delicious! In Heritage, he shows you the essence of who he is and why he has paved the way in putting the Lowcountry on the map."
—April Bloomfield, chef and author of A Girl and Her Pig

"Brock resurrects lost flavors and varieties, and—since he's a modernist as well—reinvigorates them with his own delicious style of cooking. Sean Brock is more than just a chef, and this is more than just a cookbook. It will leave you not only enriched, but enlightened."
—Dan Barber, chef and author of The Third Plate: Field Notes on the Future of Food

"This book is the real deal: American food with a sense of place and history. Reading through it is rather like eating barbeque and drinking beer with Sean Brock; you know you're in a good place."
—Fergus Henderson, chef and author of The Complete Nose to Tail

"Sean Brock is one of the most thoughtful cooks I know, with the ability to take a deep understanding of the American South's culinary history and express it in a way that is unmistakably personal, forward-thinking, and brilliant. Heritage is a must."
—René Redzepi, chef/owner, Noma

"Few chefs express the soul of their culture through their cooking as well as Sean. This book is a joyful, radiant vision of the South, seen through the lens of history and illuminated by his imagination. The recipes and stories are a delicious reminder of the pleasure to be found in good ingredients, honest cooking, and staying close to home."
—Daniel Patterson, chef and author of Coi

"Sean is a passionate and true culinary voice in the telling of the past, present, and the future of his beloved South. He has done an admirable job, and an important one, in spreading the gospel and raising the awareness of a great American regional cooking. You don't have to be from the South to experience the authentic tastes, flavors, and stories using this book."
—David Kinch, chef and author of Manresa

"This is the real thing. An honest book. A koan to Southern peoples and places. A humble roster of recipes, recollections, and farmer mash notes, from a country-boy-made-good. Start with muscadine and cucumber gazpacho. Move to rabbit stew with black pepper dumplings. Close with black walnut poundcake, drenched with chocolate gravy. You're in the hands of a master."
—John T. Edge, coeditor of The Southern Foodways Alliance Community Cookbook
Artisan, 9781579654634, 336pp.
Publication Date: October 21, 2014
About the Author
Sean Brock is the founding chef of the award-winning Husk restaurants and the chef/owner of Audrey, opening next year in Nashville. His first book, Heritage, was the winner of the James Beard Award for Best American Cookbook and the IACP Julia Child First Book Award in 2015 and was called "the blue-ribbon chef cookbook of the year" by the New York Times. Brock won the James Beard Award for Best Chef Southeast in 2010 and was a finalist for Outstanding Chef in 2013, 2014, and 2015. His TV résumé includes Chef's Table and The Mind of a Chef, for which he was nominated for an Emmy. Raised in rural Virginia, Brock is passionate about preserving and restoring heirloom ingredients. He lives in Nashville, Tennessee. Find him on Instagram @hseanbrock.