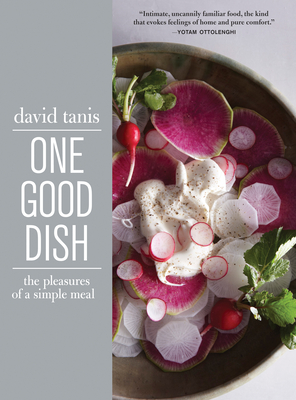 One Good Dish
Hardcover

* Individual store prices may vary.
Description
Named a Best Cookbook of the Year by NPR, Entertainment Weekly, the Washington Post, Publishers Weekly, and more

In his first non-menu cookbook, the New York Times food columnist offers 100 utterly delicious recipes that epitomize comfort food, including nourishing dishes made from ingredients found in every pantry. Individually or in combination, they make perfect little meals that are elemental and accessible, yet totally surprising—and there's something to learn on every page. Among the chapter titles there's "Bread Makes a Meal," which includes such alluring recipes as a ham and Gruyère bread pudding, spaghetti and bread crumbs, breaded eggplant cutlets, and David's version of egg-in-a-hole. A chapter called "My Kind of Snack" includes quail eggs with flavored salt; speckled sushi rice with toasted nori; polenta pizza with crumbled sage; raw beet tartare; and mackerel rillettes. The recipes in "Vegetables to Envy" range from a South Indian dish of cabbage with black mustard seeds to French grandmother–style vegetables. "Strike While the Iron Is Hot" is all about searing and quick cooking in a cast-iron skillet. Another chapter highlights dishes you can eat from a bowl with a spoon. And so it goes, with one irrepressible chapter after another, one perfect food moment after another: this is a book with recipes to crave.
Praise For One Good Dish…
Top 10 Cookbooks of the Year, Washington Post
Top 10 Cookbooks of the Year, Entertainment Weekly
Best Books of 2013, NPR
Best of the Year in Cookbooks, Amazon
Top 10 Cookbooks for Fall 2013, Publishers Weekly
"Trust David Tanis to keep it real. . . . The oeuvre [of One Good Dish] is modern and American, unfussy and charming." —Washington Post
"Simple, casual meals that satisfy. . . . Robust and inventively appealing." —Publishers Weekly, starred review
"This is the book that I will pick up when I'm hungry but not quite sure for what, for these dishes are inspiring yet can be made without a lot of fuss. . . . Who would enjoy this book? People who enjoy simple, delicious, no-fuss cooking and who appreciate well-written recipes." —TheKitchn
"Fresh, with a focus on flavor." —Charleston Post Courier
"Elegant but uncomplicated recipes." —Charlotte Observer
"One Good Dish focuses on simplicity and vibrant flavor by introducing just a few inspired twists to turn relatively simple dishes into dazzlers." —New York Daily News
"This eclectic mix from a New York Times writer comprises mainly one-dish recipes for, he writes 'the way I cook and eat day-to-day.' Stale bread becomes spaghetti with bread crumbs and pepper. Warm French lentil salad can feed a crowd on a cool day. Tanis also includes desserts (espresso-hazelnut bark, tangerine granita) with pleasingly short ingredient lists." —People
"Global comfort food." —RealSimple.com
"A book to browse when you're in need of new inspiration and want some insight from a wise, seasoned and opinionated cook." —FoodandWine.com
Artisan, 9781579654672, 256pp.
Publication Date: October 22, 2013
About the Author
David Tanis has worked as a professional chef for over three decades, and is the author of several acclaimed cookbooks, including A Platter of Figs and Other Recipes, which was chosen as one of the 50 best cookbooks ever by the Guardian/Observer (U.K.) and Heart of the Artichoke, which was nominated for a James Beard Award. He spent many years as chef with Alice Waters at Chez Panisse restaurant in Berkeley, California; he ran the kitchen of the highly praised Café Escalera in Santa Fe, New Mexico; and he operated a successful private supper club in his 17th-century walk-up in Paris. He has written for a number of publications, including the Wall Street Journal, the Guardian/Observer (U.K.), Cooking Light, Bon Appétit, Fine Cooking, and Saveur. Tanis lives in Manhattan and has been writing the weekly City Kitchen column for the Food section of the New York Times for nearly six years.