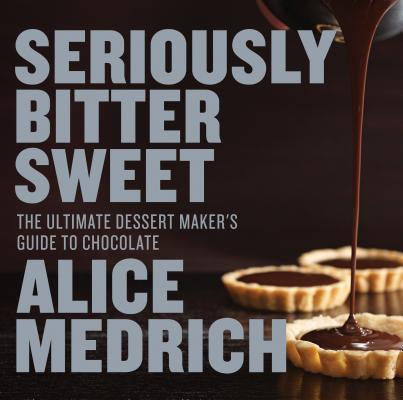 Seriously Bitter Sweet (Paperback)
The Ultimate Dessert Maker's Guide to Chocolate
Artisan, 9781579655112, 336pp.
Publication Date: October 22, 2013
* Individual store prices may vary.
Description
These days, people are accustomed to seeing chocolate labeled 54%, 61%, or 72% on grocery store shelves, but some bakers are still confused by what the labeling means and how to use it. In Seriously Bitter Sweet, Alice Medrich presents 150 meticulously tested, seriously delicious recipes—both savory and sweet—for a wide range of percentage chocolates. "Chocolate notes" appear alongside, so readers can further adapt any recipe using the percentage chocolate on hand. The book is a complete revision of Alice's 2003 Bittersweet, which was named the 2004 IACP Cookbook of the Year. Since 2003, the world of chocolate has grown exponentially and terms like "bittersweet" and "semisweet" no longer suffice as chocolatiers everywhere are making chocolates that are labeled with specific percentages of cocoa.Alice clearly outlines the qualities of different chocolates as she explains how to cook with them. With tricks, techniques, and answers to every chocolate question, Seriously Bitter Sweet will appeal to a whole new audience of chocolate lovers
About the Author
Alice Medrich has won more cookbook-of-the-year awards and best in the dessert and baking category awards than any other author. She received her formal training at the prestigious École Lenôtre in France and is credited with popularizing chocolate truffles in the United States when she began making and selling them at her influential Berkeley dessert shop, Cocolat. She has devoted much of her career to teaching and sharing her expansive knowledge about baking. Find her on Instagram and Twitter @alicemedrich.
 
Deborah Jones's recent honors include Best Photography in a Cookbook from the James Beard Foundation for her work in Bouchon. A frequent contributor to national magazines, she conducts a parallel commercial career from her San Francisco studio.
Praise For Seriously Bitter Sweet: The Ultimate Dessert Maker's Guide to Chocolate…
"Learn everything you need to know about baking and cooking with chocolate in this comprehensive guide."
—Better Homes & Gardens 
"I recommend Alice Medrich's recent revision of her classic Bittersweet. Now called Seriously Bitter Sweet, the book offers recipes substitutions that allow you to use whatever percentage chocolate you favor."