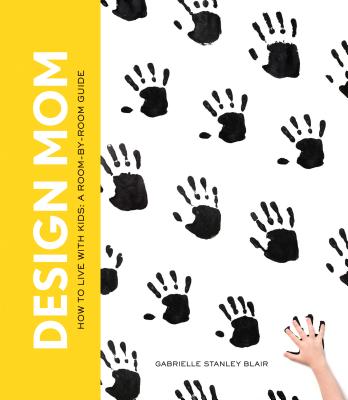 Design Mom
How to Live with Kids: A Room-by-Room Guide
Hardcover

* Individual store prices may vary.
Description
New York Times best seller

Ever since Gabrielle Stanley Blair became a parent, she's believed that a thoughtfully designed home is one of the greatest gifts we can give our families, and that the objects and decor we choose to surround ourselves with tell our family's story. In this, her first book, Blair offers a room-by-room guide to keeping things sane, organized, creative, and stylish. She provides advice on getting the most out of even the smallest spaces; simple fixes that make it easy for little ones to help out around the house; ingenious storage solutions for the never-ending stream of kid stuff; rainy-day DIY projects; and much, much more.
Praise For Design Mom: How to Live with Kids: A Room-by-Room Guide…
"A thoughtful take on how to create beautiful, well-organized functional family spaces, and a cool parenting handbook to boot."
—San Francisco Chronicle
 
"Blair's book . . . [is] broken down into numbered principles, each with uncluttered, simple and approachable photos. These aren't merchandise-y shots; they're pieces of doable advice such as 'Extra seating without extra chairs' and 'Artful ways to display your kids' art'—which includes a strategy session on how to decide which art to keep. Blair is all about the art of the possible and the workable, and remembering that those are moving targets."
—Denver Post

"Practical and inspirational advice."
—Arizona Republic

"Blends home décor ideas with parenting insights. . . . Design Mom is about creating interiors that encourage living together successfully and happily as a family."
—Newark Star-Ledger

"Finally, there's a book that provides professional-level interior design advice and solutions aimed specifically at families with children. While the book includes the occasional crafty how-to, it is far more focused on providing ideas for decluttering the household, facilitating family activities, and making even the laundry room pretty. Blair tackles the entryway first, but not in the passing fashion of the average interiors book. For families with young kids, the entryway is often the most problematic space, where shoes, coats, backpacks, keys, loose change, and old mail make ever-changing chaos. The author has six children, so interspersed with design ideas are incidental moments of parenting insights ("If kids are expected to rearrange furniture, hunt for sheet music, and haul their instruments from the opposite end of the house at practice time, there will be some resistance") and purposeful recommendations for making family life better, such as a page on teaching kids to do their own laundry. Blair even finds a way to keep mass-marketed character decor out of a child's bedroom by substituting NASA photos for Buzz Lightyear pinups. This is a happy marriage of interior design book and parenting guide."
—Publishers Weekly, starred review
 
"This book addresses design in a novel way—it's aimed at real, messy and boisterous families with children. No priceless vases or fragile materials are recommended here. Renowned interior designer, author of a top parenting blog and mother of six, Gabrielle Stanley Blair lays out her best advice in this warm, funny and down-to-earth guide."
—BookPage

"A keeper. . . . Gabby guides us, room by room, through close to 300 beautifully photographed pages which will surely help parents achieve that elusive balance of practical function and beauty."
—CoolMomPicks.com
Artisan, 9781579655716, 288pp.
Publication Date: April 7, 2015
About the Author
Gabrielle Stanley Blair authors the popular blog DesignMom.com, a daily dose of inspiration at the intersection of motherhood and design. She is also a founder of the blockbuster design conference Alt Summit. She and her husband, Ben Blair, live with their six children in Oakland, California.