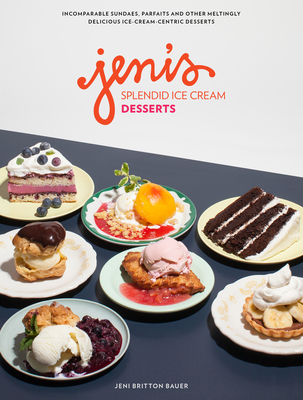 Jeni's Splendid Ice Cream Desserts
Hardcover

* Individual store prices may vary.
Other Editions of This Title:
Hardcover (6/15/2011)
Description
In Jeni's Splendid Ice Cream Desserts, ice creams deliciously melt into hot brown Bettys, berry cobblers, sweet empanadas, and corn fritters. Her one-of-a-kind cakes and cookies are not only served with ice cream, they get crumbled on top and incorporated into the ice cream base itself.

Sundae combinations dazzle with bold and inspired sauces, such as Whiskey Caramel and Honey Spiked with Chilies. And Jeni's crunchy "gravels" (crumbly sundae toppings)—such as Salty Graham Gravel and Everything Bagel Gravel—are unlike toppings anyone has ever seen before.

Store-bought ice cream can be used for all the desserts in the book, but it will be hard to resist Jeni's breakthrough recipes for dairy-free ice cream, frozen custard, and soft-serve. Thirty brand-new flavors, including Cumin & Honey Butterscotch and Extra-Strength Root Beer Ice Cream, attest to the magic of this unique and alluring collection.
Praise For Jeni's Splendid Ice Cream Desserts…
"Using ice cream as a main ingredient for another dessert? Brilliant!"
—Library Journal

"In her second cookbook, Jeni Britton Bauer—famous for her outstanding ice creams—unveils improved recipes, new flavors and an abundance of creative pairings."
—Food Wine

"A very engaging read. . . . Jeni's Splendid Ice Cream Desserts isn't just a simple ice cream book: there are big ideas at play here. The book itself is actually kind of a brilliant concept: while recipes for all of the ice cream flavors are included, it's not necessary to make them yourself to complete the recipes. What's stopping you from buying Jeni's (or whatever your ice cream of choice may be) direct from the source and sandwiching it between two of the book's cookies? Or plopping it on top of the fresh fruit crisps?"
—Eater

"Sophisticated, playful, and amazing."
—Amazon.com Omnivoracious blog



Artisan, 9781579655921, 224pp.
Publication Date: May 20, 2014
About the Author
Jeni Britton Bauer is an American ice cream maker and entrepreneur. A pioneer of the artisan ice cream movement, she introduced a modern, ingredient-driven style of ice cream making that has been widely emulated across the world but never duplicated. Britton Bauer opened her first ice cream shop, Scream, in 1996, then founded Jeni's Splendid Ice Creams in 2002. Her first cookbook, Jeni's Splendid Ice Creams at Home, is a New York Times and Wall Street Journal bestseller and a James Beard Award winner. Her second cookbook, Jeni's Splendid Ice Cream Desserts, takes ice cream to the next level with an extraordinary array of plated, layered, and piled-high ice cream–centric desserts. Today, Jeni's Splendid Ice Creams is a Certified B Corporation with 34 scoop shops, an online shop at jenis.com, and distribution in top grocery stores across the country. Follow Britton Bauer on Instagram @jenibrittonbauer.