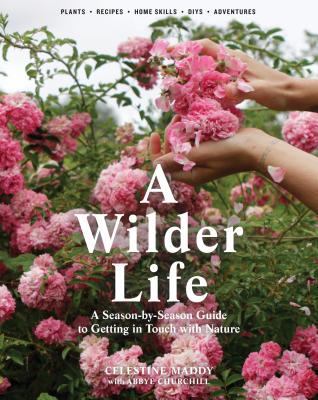 A Wilder Life
A Season-by-Season Guide to Getting in Touch with Nature
Paperback

* Individual store prices may vary.
Description
In our technology-driven, workaday world, connecting with nature has never before been more essential. A Wilder Life, a beautiful oversized lifestyle book by the team behind the popular Wilder Quarterly, gives readers indispensable ideas for interacting with the great outdoors. Learn to plant a night-blooming garden, navigate by reading the stars, build an outdoor shelter, make dry shampoo, identify insects, cultivate butterflies in a backyard, or tint your clothes with natural dyes. Like a modern-day Whole Earth Catalog, A Wilder Life gives us DIY projects and old-world skills that are being reclaimed by a new generation. Divided into sections pertaining to each season and covering self-reliance, growing and gardening, cooking, health and beauty, and wilderness, and with photos and illustrations evocative of the great outdoors, A Wilder Life shows that getting in touch with nature is possible no matter who you are and—more important—where you are.
Praise For A Wilder Life: A Season-by-Season Guide to Getting in Touch with Nature…
"The new book that's becoming our natural beauty obsession. . . . It's a comprehensive, coffee table–worthy, DIY project–packed manual for enjoying all four seasons through interaction with nature—including recipes (foraged elderflower champagne! Pumpkin butter!), gardening and home tips. . . . It's also a particularly good resource for natural-beauty buffs."
—Vogue.com

"Wander through the pages of A Wilder Life in awe and appreciation. . . . [The book] urges readers to garden with a purpose—to stew, brew, can and pot. . . . . Nature isn't just a screen saver. It's a soul saver."           
—The New York Times Book Review
 
"Will smarten up any side table."
—Domino

"A beautiful, informative, thoughtful compilation of facts, recipes, DIY instructions, and more—a book designed to put you a little more in touch with nature and a lot more in touch with yourself."
—Organic Lifestyle Magazine
 
Artisan, 9781579655938, 272pp.
Publication Date: January 26, 2016
About the Author
Celestine Maddy is the founder and publisher of Wilder Quarterly. She was named one of Fast Company's Most Creative People in Business for 2012 and is also a Cannes Lion winner. Before founding Wilder Quarterly, Maddy was the director of emerging media at the global agency StrawberryFrog. She lives in San Francisco, where she is currently VP of marketing at Reddit.
 
Abbye Churchill is the editorial director of Wilder. She is also a writer, artist, and herbalist living in Chicago who spends her free time traveling the world in search of unique natural experiences.