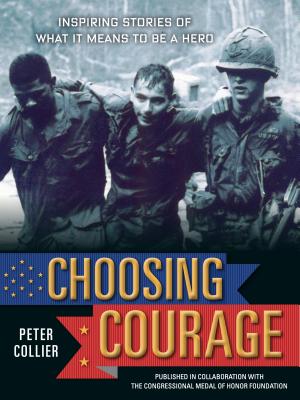 Choosing Courage
Inspiring Stories of What It Means to Be a Hero
Hardcover

* Individual store prices may vary.
Other Editions of This Title:
Paperback (5/3/2016)
Prebound (5/3/2016)
Description
What turns an ordinary person into a hero? What happens in the blink of an eye on a battlefield (or in any dangerous situation) to bring out true courage? The men and women who have been recognized by the Congressional Medal of Honor Foundation know the answers to these questions deep in their hearts. We learn of Jack Lucas, a thirteen-year-old who kept his real age a secret so he could fight in World War II—where he deliberately fell on a grenade to save his buddies during the Iwo Jima invasion—and Clint Romesha, who almost single-handedly prevented a remote U.S. Army outpost in Afghanistan from being taken over by the Taliban. Also included are civilians who have been honored by the Foundation for outstanding acts of bravery in crisis situations: for example, Jencie Fagan, a gym teacher who put herself in danger to disarm a troubled eighth grader before he could turn a gun on his classmates. Adding depth and context are illuminating sidebars throughout and essays on the combat experience and its aftermath: topics such as overcoming fear; a mother mourning her son; and "surviving hell" as a prisoner of war. Back matter includes a glossary and an index.
Praise For Choosing Courage: Inspiring Stories of What It Means to Be a Hero…
"Every story in this remarkable book is inspiring and deeply moving. The heroic accounts of bravery vanquishing fear and service before self should be mandatory reading for every child—and adult—in this country." 
—Gary Sinise, actor, musician, and founder of the Gary Sinise Foundation

"The stories in this book . . . convey the human side of heroism."
—The Baltimore Sun

"Open to any page of Choosing Courage and prepare to be awed at the ability of ordinary people to do extraordinary things. These tales of heroism take the reader from World War II to Iraq and Afghanistan and to U.S. shores, where even a schoolteacher can face life-and-death situations."
—The Philadelphia Inquirer

"Collier takes readers on an emotional journey into the trenches, through prisoner of war camps to makeshift hospitals, conveying the bravery that compels certain individuals to rise above their fear to protect and save others. Published in collaboration with the Congressional Medal of Honor Foundation, the book devotes each chapter to a different tale of a medal recipient and is often followed by a page or two of background or historical information. Although the Medal of Honor was created in 1861, the book begins with stories from the battlefields of World War II, Korea, and Vietnam. It includes a story from the attack on the World Trade Center, tales of heroism from Iraq and Afghanistan, Haiti, the Congo, and in the halls of an American middle school. Some of the 25 entries are told in the third person, while others are narrated by the hero in question. Most moving are the tales that are told by parents and children of the honorees. The book concludes with a note about the consequences of war and the history of the Congressional Medal of Honor. VERDICT: Middle grade readers will appreciate the consistent format, short chapters, straightforward language, photos, and background information, and will benefit from the factual material and the underlying lessons of courage."
—School Library Journal

"As he did in his 2003 adult work, Medal of Honor, Collier spotlights recipients of America's highest military award in this book, published in collaboration with the Congressional Medal of Honor Foundation. Collier broadens the scope of his tributes to include a handful of civilians who have been recognized by the foundation, yet his focus remains on veterans who distinguished themselves in WWII, Korea, Vietnam, Afghanistan, and Iraq. Two especially relevant profiles to young readers are those of a Nevada middle-school teacher, who persuaded a student to surrender his gun after he opened fire at school, and a North Carolina boy who, after forging his mother's signature to enlist in WWII at age 13, threw himself on a grenade to save his fellow Marines at Iwo Jima. Similar accounts of self-sacrificing devotion and humility echo throughout these harrowing and, at times, horrific accounts of combat, intensifying their emotional impact. Interspersed b&w photos also help personalize the profiles, while sidebars provide succinct background information on the various wars. An illuminating and worthwhile resource."
—Publishers Weekly

"While this book targets ages 10 and up, I believe it to be a great addition to the library of anyone who loves history."—About Families
Artisan, 9781579655969, 240pp.
Publication Date: May 12, 2015
About the Author
Peter Collier is the author (with David Horowitz) of The Rockefellers: An American Dynasty, which was nominated for the National Book Award, as well as The Kennedys: An American Drama, The Roosevelts: An American Saga, and other books. He lives in Nevada City, CA.
or
Not Currently Available for Direct Purchase