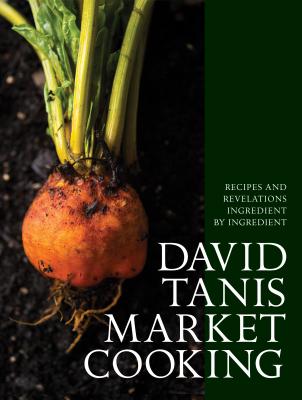 David Tanis Market Cooking
Recipes and Revelations, Ingredient by Ingredient
Hardcover

* Individual store prices may vary.
Description
Named a Best Cookbook to Give and Get by Food & Wine, Martha Stewart Living, the Boston Globe, the Chicago Tribune, the Houston Chronicle, the Minneapolis Star Tribune, and Eater

David Tanis Market Cooking is about seeking out the best ingredients, learning the qualities of each, and the methods and recipes that showcase what makes them special—pulling from all the world's great cuisines.

Sections on universal ingredients—such as alliums (garlic, onion, shallots, leeks, etc.)—offer some of the simplest yet most satisfying recipes in the world. Consider the onion in these three marvelous incarnations: Lebanese Caramelized Onions, American Buttermilk Fried Onion Rings, and French Onion and Bacon Tart. And the chile section encourages readers to use real chiles (rather than reach for bottled hot sauce) on an everyday basis in recipes from Morocco to India, from Mexico to China, with wonderful results.

A masterwork of recipes, approach, technique, and philosophy, David Tanis Market Cooking is as inspiring as it is essential. This is how to become a more intuitive and spontaneous cook. This is how to be more discerning in the market and freer in the kitchen. This is how to transform the freshest ingredients into one perfectly delicious dish after another, guided by the core beliefs that have shaped David Tanis's incomparable career: Food doesn't have to be fussy to be satisfying. Seasonal vegetables should be central to a meal. Working with food is a joy, not a chore.
Praise For David Tanis Market Cooking: Recipes and Revelations, Ingredient by Ingredient…
"Our food editors recommend David Tanis Market Cooking as a new kitchen essential."
—Martha Stewart Living
 
"Tanis has long been one of the best voices on modern American cooking, a gifted chef—25 years at Chez Panisse—and equally gifted writer. His new book is a lovely one, with 200 recipes embedded in almost 500 pages, all geared toward today's vegetable-driven cuisine. . . . Tanis's food is deeply flavorful, honest, creative and always, always fun to cook."
—Los Angeles Times

"A crash course on how to seek out the best, fresh, and simple ingredients, and what to do with them once you have them."
—Foodandwine.com

"Deciding what to cook based on what looks good at the market only works if you have a roster of simple, accessible recipes for each ingredient at your fingertips. Luckily, that's exactly what the new book from [David Tanis] delivers here."
—Epicurious
 
"An inspired collection of ideas that serves as a teaching manual of sorts, with traditionally written recipes, ingredients and steps spelled out, and a more informal description in narrative form of how to prep a dish."
—Minneapolis Star Tribune

"Tanis invites us to learn deeply about each ingredient and to discover cooking methods and recipes that showcase what makes them special. . . . With wisdom and generosity, Tanis eases us in the direction of more intuitive, more spontaneous cooking. The point of it all is this: Delicious needn't be complicated. And that's something that every cook—from beginner to pro—can appreciate."
—Fine Cooking
 
"A gentle, approachable guide to getting the most out of your [market] haul. . . . [Tanis's] calm, Jedi-like assurance guides you into making a perfect Tuscan pork roast, Oaxaca-style garlic soup, or a quick harissa recipe that you'll soon know by heart. There's a reason that young-gun chefs like Ignacio Mattos, who cooked with Tanis at Chez Panisse, revere him: He's got The Knowledge."
—BonAppetit.com
 
"In [Tanis's] largest and most comprehensive cookbook to date, his words read as patient, funny, and understanding—the ideal companion on your seasonally focused culinary journey. . . . At a time when famous chef-driven cookbooks are becoming more and more like aspirational coffee table books—beautiful but full of eight-hour, six-component recipes you'll probably never work through—it's a delight to return to straightforward simplicity and accessibility. . . . In our restaurant-obsessed era, mixed in with Blue Apron conveniences, David Tanis Market Cooking makes a compelling case for staying home and cooking from scratch.
—East Bay Express

"Over 200 confidence-building recipes. . . . Tanis is a wise chef for all seasons."
—BookPage

"These beautifully simple preparations allow market-fresh vegetables and herbs to shine. . . . An inviting entry to the fundamentals of market cooking."
—Library Journal
 
"Recipes are simple but deliver. Tanis is an excellent recipe writer as well."
—The Telegraph (UK)

"I could happily eat David's food every day. I love its  beauty, simplicity, and integrity, and there's always an element of surprise. Market Cooking is his best book yet."
—Alice Waters, owner, Chez Panisse, and founder, the Edible Schoolyard Project
 
"There is a refreshing clarity to David Tanis's food. Who needs fireworks when your ingredients are market-fresh, the recipes are reassuringly straightforward, and the author is the most brilliant cook?"
—Yotam Ottolenghi, author of Plenty and Jerusalem
 
"David Tanis always makes me want to cook—right now. This is a gorgeous and essential book."
—Deborah Madison, author of In My Kitchen and Vegetable Cooking Forever
 
"I do not know how he does it, but David Tanis has produced another can't-do-without book—a classic."
—Madhur Jaffrey, author of Vegetarian India
 
"David's cooking is succulent, fresh, and full of joy."
—Francis Mallmann author of Mallmann on Fire
 
"In Market Cooking, David Tanis shares the genius of his nuanced, simple yet sophisticated dishes. His book is a must-read for home cooks and professional chefs alike."
—Travis Lett, author of Gjelina
 
"A gem of a book—David's food is the perfect balance of wise traditions and contemporary whimsy."
—Gabriela Cámara, chef, Cala and Contramar
 
"I can't explain it! He makes magic with simple ingredients and with such ease. Tanis is a wizard!"
—Ignacio Mattos, chef/co-owner, Estela
 
"What joy . . . I love the purity and simplicity of David's food and his evocative prose."
—Darina Allen, founder, Ballymaloe Cookery School, and author of Grow, Cook, Nourish
Artisan, 9781579656287, 480pp.
Publication Date: October 3, 2017
About the Author
David Tanis has worked as a professional chef for over three decades, and is the author of several acclaimed cookbooks, including A Platter of Figs and Other Recipes, which was chosen as one of the 50 best cookbooks ever by the Guardian/Observer (U.K.) and Heart of the Artichoke, which was nominated for a James Beard Award. He spent many years as chef with Alice Waters at Chez Panisse restaurant in Berkeley, California; he ran the kitchen of the highly praised Café Escalera in Santa Fe, New Mexico; and he operated a successful private supper club in his 17th-century walk-up in Paris. He has written for a number of publications, including the Wall Street Journal, the Guardian/Observer (U.K.), Cooking Light, Bon Appétit, Fine Cooking, and Saveur. Tanis lives in Manhattan and has been writing the weekly City Kitchen column for the Food section of the New York Times for nearly six years.