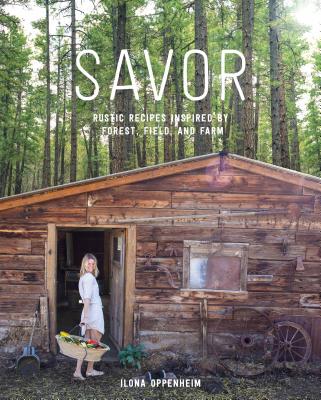 Savor
Rustic Recipes Inspired by Forest, Field, and Farm
Hardcover

* Individual store prices may vary.
Description
"Gorgeous. . . .  A treat even if you don't feel like cooking."
—The New York Times

Savor is a stunning cookbook that celebrates rustic good food made from natural ingredients.

Experiencing the bounty of nature is one of life's great joys: foraging, gardening, fishing, and, ultimately, cooking casual meals, whether indoors or outside over an open fire. From her home in the mountains of Aspen, Colorado, Ilona Oppenheim devises recipes that make the best use of the abundance of her surroundings: foraged mushrooms and berries, fresh-caught fish, pasture-raised dairy, and home-milled flours. Oppenheim's recipes rely on quality ingredients and simple cooking techniques to make nutritious, family-centric dishes, including Kale and Feta Quiche, Ricotta and Roasted Fig Bruschetta, Vegetable Soup with Mini Meatballs, Porcini Fettuccine, Tomato Tart, Oatmeal Baked Apples, and Pear Crisp, among others. Many of these recipes call for only a handful of ingredients and require very few steps, resulting in dishes that are easy to make and fresh, wholesome, and delicious too.

This romantic and delicious portrayal of living in harmony with nature will appeal to gardeners, gatherers, foragers, and home cooks but will also transport the armchair reader straight to the forest. The natural beauty of mountains, valleys, streams, and vast swaths of land jumps out from these stunning pages.
Praise For Savor: Rustic Recipes Inspired by Forest, Field, and Farm…
"A lavishly illustrated collection of recipes for fresh, healthy eating."
—The New York Times Book Review
 
"Gorgeous. . . .  A treat even if you don't feel like cooking."
—The New York Times

"Capturing a connection between sourcing and sustainability is the focus of Savor. . . . A new tome on fresh and wholesome cooking."
—Hamptons magazine
 
"With a focus on dishes composed of only a few ingredients each, Oppenheim, a designer who lives in Aspen, Colo., lays out a novice-friendly guide to various foraging staples like wild mushrooms and fresh-caught fish."
—Publishers Weekly

"Comforting."
—Green Living magazine
 
"Influenced by life in the mountains, connecting to nature, and enjoying good food, Ilona Oppenheim, who splits her time between Aspen and Miami, delivers her first cookbook, Savor. It [is] a love letter to summers spent foraging, fishing, and cooking for her family in the Rockies."
—Denver Life magazine
 
"Ilona is quite brilliant at getting the very best out of raw ingredients. The decisions she makes about how to prepare ingredients result in a depth of flavor and texture that I find remarkable."
—Eli Zabar, restaurateur

"Ilona's inventive and inspiring recipes, her lyrical and beautifully written stories, and emotive photographs take us into her world—a world where cooking is an expression of love."
—Ruth Rogers, chef and owner, The River Café

"This is one of the most beautiful books. I want to savor every page. As a mother and someone who really cares about wholesome nutrition, the book's approach and recipes speak to me."
—Elle Macpherson, WelleCo co-founder
Artisan, 9781579656669, 272pp.
Publication Date: March 22, 2016
About the Author
Ilona Oppenheim is a graphic designer, photographer, mother, and home cook. She owns and operates Ilona Creative Studio, a design and advertising firm. Born in Switzerland, Ilona lives with her husband, Chad Oppenheim, a well-known architect, and her children, Hendrix and Liloo, in both Miami and Aspen.