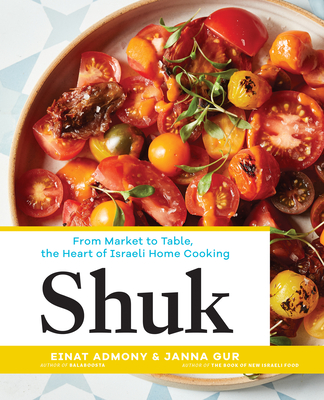 Shuk
From Market to Table, the Heart of Israeli Home Cooking
Hardcover

* Individual store prices may vary.
Description
A Library Journal Best Cookbook of the Year

IACP Award Finalist

"SHUK shouts 'Cook me!" from every vibrant page."
—Boston Globe

"Fascinating. . . . This energetic and exciting volume serves as an edifying deep dive into Israeli food market culture and cuisine." 
 —Publishers Weekly, starred review

With Shuk, home cooks everywhere can now inhale the fragrances and taste the flavors of the vivacious culinary mash-up that is today's Israel. The book takes you deeper into this trending cuisine, through the combined expertise of the authors, chef Einat Admony of Balaboosta and food writer Janna Gur. Admony's long-simmered stews, herb-dominant rice pilafs, toasted-nut-studded grain salads, and of course loads of vegetable dishes—from snappy, fresh, and raw to roasted every way you can think of—will open your eyes and your palate to the complex nuances of Jewish food and culture. The book also includes authoritative primers on the well-loved pillars of the cuisine, including chopped salad, hummus, tabboulehs, rich and inventive shakshukas, and even hand-rolled couscous with festive partners such as tangy quick pickles, rich pepper compotes, and deeply flavored condiments. Through gorgeous photo essays of nine celebrated shuks, you'll feel the vibrancy and centrality of the local markets, which are so much more than simply shopping venues—they're the beating heart of the country. With more than 140 recipes, Shuk presents Jewish dishes with roots in Persia, Yemen, Libya, the Balkans, the Levant, and all the regions that contribute to the evolving food scene in Israel. The ingredients are familiar, but the combinations and techniques are surprising. With Shuk in your kitchen, you'll soon be cooking with the warmth and passion of an Israeli, creating the treasures of this multicultural table in your own home.
Praise For Shuk: From Market to Table, the Heart of Israeli Home Cooking…
Named a Best New Cookbook for Fall 2019 by Publishers Weekly, Epicurious and Robb Report
 
"SHUK shouts 'Cook me!" from every vibrant page."
—Boston Globe

"If your knowledge of Israeli cooking starts and ends with Ottolenghi, we have a new book for you. Shuk . . . provides both approachable recipes and an education in Israeli eating. The detailed instructions on the building blocks of Israeli cuisine, like a six panel labneh photo series, will comfort even the most timid of cooks, while the border-crossing dishes—like a fragrant Ethiopian Doro Wot—provide insight into what a modern day Israelite eats. If you're visiting Tel Aviv any time soon or just dreaming of it, this book doubles as travel inspiration: Lush photo essays from a handful of choice outdoor markets, or shuks, appear between recipes."
—Epicurious
 
"Gorgeously designed . . . an excellent introduction to the cuisine. Part cookbook, part photo essay, part travelogue, Admony and Gur pay homage to the shuks – free-form marketplaces – where they find culinary inspiration. Charming little essays highlighting the authors' favorite vendors and markets are strewn throughout its pages, telling the reader best practices for their visit and highlighting each market's particular charms. . . . For all their beauty, many of the dishes in Shuk are surprisingly simple, highlighting the fresh flavors of vegetables and herbs. It's a book that insists on its own usefulness, despite the glossy look that might tempt you to keep it safely tucked away on a coffee table."
—Austin Chronicle

"Do not read this book hungry!"
—Atlanta Jewish Times

"Fascinating. . . . Scrumptious."
—New York Journal of Books
 
"Admony (Balaboosta), who owns the restaurants Balaboosta and Taim in New York City, and Gur (Jewish Soul Food) excel at crafting recipes for Israel's flavorful melting-pot cuisine, and they organize this fascinating cookbook around eight shuks, or markets. They include Tel Aviv's Levinsky Market, which houses a stall selling roasted seeds and nuts and a spice store that traffics in potions and powders reputed to "drive away an evil eye, lift a curse, or help you find your soul mate." Dishes are equally intriguing: a chopped salad of avocado and kohlrabi highlights the country's abundant produce. Traditional selections and clever inventions intermingle, the latter exemplified by challah braided around mushrooms and za'atar, and, in a chapter on stuffed items, a cake of cabbage leaves encasing a filling of pine nuts, almonds, pistachios, ground beef, and rice. A chapter on couscous includes a brace of stews for ladling over the pasta, as well as two options for creating couscous from scratch. A grilling primer features whole fish, kebabs, and arayes—pitas stuffed with beef and lamb and cooked over a flame. Sidebars range from suggestions for optimizing Israeli salad to an explanation of the evolution of date syrup. This energetic and exciting volume serves as an edifying deep dive into Israeli food market culture and cuisine." 
 —Publishers Weekly, starred review

"A collection of recipes that almost literally begs to jump from page to kitchen, oven, and barbecue. . . . Dishes reflect a true love of the finest ingredients and the 60-plus ethnicities that comprise Israel. . . [These are] foods that resonate in hearts and souls."
—Booklist, starred review

"Recipes feature Israeli staples from salads, rice, meats, flatbreads, and soups as diverse as the country itself. . . . The authors' cultural notes provide context for the recipes and a better understanding of the region and cuisine. Most intriguingly, interspersed between the recipes are profiles and photographs of eight of the author's favorite shuks. VERDICT A colorful, flavorful tour of the many tastes of Israel, as well as many other Middle Eastern favorites, nicely packaged for home chefs."
—Library Journal
 
"Einat and Janna's journey into the vibrant world of Israeli food is one you seriously want to join. It covers everything from the famous chopped salads to hummus (of course!) to couscous to chicken to cheesecake—and it's laid out beautifully by two skillful experts."
—Yotam Ottolenghi, chef and author of Jerusalem and Plenty

"I am devouring Einat Admony and Janna Gur's Shuk. This book superbly illustrates how Einat creates layers of flavor with recipes that are accessible for the home cook. And nobody knows the Israeli market scene better than Janna Gur. Together they have collaborated on a work that not only brings the Israeli shuk (marketplace) alive, but also gives the reader wonderful tips and even more wonderful recipes."
—Joan Nathan, author of King Solomon's Table

"Shuk is the kind of cookbook you have to tear yourself away from—direct, insightful, bursting with color and flavor. Einat's beautiful recipes and knowledge of Israeli markets will lure you in, change what you thought you knew about Israeli food, and deeply satisfy your soul."
—Gail Simmons, food expert, TV host, and author of Bringing It Home

"Shuk gathers the many cultures of Israel and their vibrant food traditions into one soulful, rich cookbook. Lucky us—what a great collection!"
—Jenn Louis, chef and author of The Book of Greens

"So much more than a cookbook—Shuk is a transporting adventure through Israel's spirited markets, sun-drenched seasons, and delicious intercultural exchanges. Each colorful recipe is every bit as approachable, comforting, and joyful as Einat and her beloved restaurants." 
—Danny Meyer, author and founder/CEO of Union Square Hospitality Group
Artisan, 9781579656720, 368pp.
Publication Date: September 17, 2019
About the Author
Einat Admony is the author of Balaboosta and chef/owner of New York City's popular Balaboosta, Kish-Kash, and Taïm restaurants, which have been featured in The New Yorker, the New York Times, and New York magazine, among many other newspapers, magazines, and websites. When Admony is not at her restaurants, she can be found at her home in Brooklyn, cooking for the crowd of family and friends who regularly gather around her dining table.

Janna Gur was born in Riga, Latvia, and immigrated to Israel in 1974. She is the founder of Al Hashulchan, the premier Israeli food and wine magazine, which she edited for almost 30 years. Gur is the author of The Book of New Israeli Food and Jewish Soul Food: From Minsk to Marrakesh and has written and/or edited nearly 40 other cookbooks. She lives in Tel Aviv.