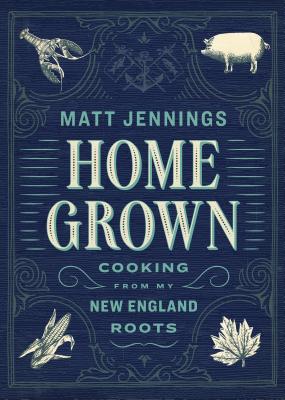 Homegrown
Cooking from My New England Roots
Hardcover

* Individual store prices may vary.
Other Editions of This Title:
Hardcover (4/23/2018)
Hardcover (12/3/2017)
Hardcover (3/19/2018)
Paperback (12/12/2018)
Description
James Beard Award Finalist

IACP Award Finalist

Named a Best Cookbook of the Year by the Los Angeles Times, the Atlanta Journal-Constitution, Rachael Ray Every Day, and Fine Cooking

A Game-Changing Chef Redefines a Classic American Cuisine

In his debut cookbook, chef Matt Jennings honors the iconic foods of his heritage and celebrates the fresh ingredients that have come to define his renowned, inventive approach to cooking. With four James Beard Award nominations for Best Chef: Northeast, three Cochon 555 wins, and a spot on Food & Wine's 40 Big Food Thinkers 40 and Under list, Jennings is a culinary innovator known for his unexpected uses of traditional northern ingredients (maple syrup glazes a roasted duck; a molasses and cider barbecue sauce makes the perfect accompaniment to grilled chicken wings; carbonara takes on a northern slant with the addition of razor clams). With over 100 vibrant, ingredient-driven recipes—including modern spins on New England staples like clam chowder, brown bread, and Boston cream whoopie pies, as well as beloved dishes from Jennings's award-winning restaurant, Townsman—Homegrown shines a spotlight on a trailblazing chef and pays homage to America's oldest cuisine. 
Praise For Homegrown: Cooking from My New England Roots…
"Spills and stains are to be expected on this lushly photographed compendium . . . its pages shot through with clever ideas."
—Food & Wine

"Unlike some chef-written books, which are filled with complicated recipes and subrecipes, the ones I tried from Homegrown were easy to follow and a breeze to prepare. They were also delicious. . . . Clearly with some of these recipes, Jennings ventures beyond his New England roots, yet somehow stays firmly grounded in them, a delicate balance he pulls off with panache throughout this delightful book."
—Fine Cooking
 
"[An] illuminating, gotta-have resource. . . . A gifted storyteller, Jennings uses his Northeastern heritage as a prism, sharing the beauty and bounty of this historic, tradition-laden region through 100 practical, easy-to-follow recipes that resonate far beyond the borders of Maine, Vermont, New Hampshire, Massachusetts, Rhode Island and Connecticut."
—Minneapolis Star Tribune

"Inventive. . . . [Homegrown is] a fun read, a chatty book that demonstrates serious regional love."
—Los Angeles Times
 
"Homegrown, I'm happy to say, is not a chef-y, showoff-y, navel-gazing bore filled with recipes a home cook will never bother to tackle. I'm done with those. It is a deeply personal tribute by a man who feels the salt and iron of the region coursing through his very blood. There's honesty and design in the way he organizes chapters in an elemental way: Dairy, Ocean, Farm, Garden and Orchard, Forest. . . . This one's a stunner. Boy's got something to say."
—Atlanta Journal-Constitution
 
"A treasury of ingenious takes on New England and American classics. . . . Gorgeous, flavorful dishes. . . . Jennings's exciting recipes will inspire readers to get more creative with their cooking."
—Library Journal, starred review
 
"Never has there been a better time for New England cuisine, and anyone who's dined at the award-winning Townsman in Boston knows that Jennings is to thank. [Homegrown shows you how to] recreate his twists on centuries-old classics by using seaweed to boost the brininess of clam chowder or adding Yankee flair to carbonara via razor clams and salt pork."
—Tasting Table
 
"A loving exploration of the dishes, landscapes, and ingredients of the region, it is filled with recipes that are personal while pushing the envelope of local cuisine."
—Boston Globe
 
"Filled with little touches that'll have you reconsidering New England classics. . . . More importantly, though, this book is a reminder to mine your own heritage and your own memories when crafting a dish or planning a menu, wherever you are."
—Plate
 
"[One of] the 7 Most Anticipated Cookbooks of Fall 2017."
—Publishers Weekly
 
"This book echoes the simplicity and delight of mealtime with Matt's wife and their boys rather than the foods that require a restaurant kitchen and larder. Homegrown will make your kitchen a better place to cook in and a better place to eat in and will supply you with a lifetime of great recipes that your family will love."
—Andrew Zimmern, from the foreword
 
"Matt's book tells us a compelling personal story about the place that defines him. His respect for these ingredients and his delicious recipes will forever transform your understanding of New England flavors."
—Sean Brock, chef and author, Heritage
 
"The recipes Matt gives us in Homegrown honor not only the food of his heritage but also the food of his heart. As a dad, Matt realizes that what we cook at home must be both simple to make and worth the effort. These dishes will soon become favorites in your house, too."
—Tyler Florence, chef, author, restaurateur
 
"A great debut for Matt Jennings! His New England background and his love for food make this a great read as well as an amazing reference for anyone looking to amp up their kitchens. The recipes are simple enough for a home cook to follow with professional results."
—April Bloomfield, chef and author, A Girl and Her Pig and A Girl and Her Greens
 
"With a title like Homegrown, who could resist? This book is an inspired compilation of the food Matt Jennings has grown up with. From his soul to your table, these dishes will take you right to New England and all the delectable seasonal provisions it offers."
—Daniel Boulud, chef/owner, The Dinex Group
 
"This is new, quintessential New England cuisine brought to you in a book full of insight and delicious, smart food."
—David McMillan, chef and author, The Art of Living According to Joe Beef
Artisan, 9781579656744, 352pp.
Publication Date: October 17, 2017
About the Author
With four James Beard Foundation Award nominations for Best Chef: Northeast, three Cochon 555 wins, and a spot on Food & Wine's 40 Under 40 Big Thinkers in America list, chef Matt Jennings is recognized nationally for his bold, lusty cooking, and his dedication to New England artisan and seasonal ingredients. After a decade of success with his restaurant Farmstead in Providence, Jennings returned to his native city of Boston in February 2015 to open Townsman, a New England brasserie that pays homage to his deep roots in the area, showcasing his commitment to locality and love of the Northeast. Townsman was named one of Esquire's Best New Restaurants in America; USA Today named it one of the 10 Best New Restaurants in the country; and Food & Wine included Townsman in their list of 10 Restaurants of the Year. Find Jennings on Instagram @matthewjennings and online at townsmanboston.com.