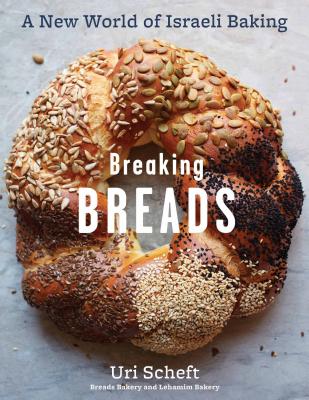 Breaking Breads
A New World of Israeli Baking--Flatbreads, Stuffed Breads, Challahs, Cookies, and the Legendary Chocolate Babka
Hardcover

* Individual store prices may vary.
Description
Named one of the Best Cookbooks of the Year by Food & Wine, The Boston Globe, The Los Angeles Times, The New York Times, The San Francisco Chronicle, USA Today, The Washington Post, and more
 
Israeli baking encompasses the influences of so many regions—Morocco, Yemen, Germany, and Georgia, to name a few—and master baker Uri Scheft seamlessly marries all of these in his incredible baked goods at his Breads Bakery in New York City and Lehamim Bakery in Tel Aviv. Nutella-filled babkas, potato and shakshuka focaccia, and chocolate rugelach are pulled out of the ovens several times an hour for waiting crowds. In Breaking Breads, Scheft takes the combined influences of his Scandinavian heritage, his European pastry training, and his Israeli and New York City homes to provide sweet and savory baking recipes that cover European, Israeli, and Middle Eastern favorites. Scheft sheds new light on classics like challah, babka, and ciabatta—and provides his creative twists on them as well, showing how bakers can do the same at home—and introduces his take on Middle Eastern daily breads like kubaneh and jachnun. The instructions are detailed and the photos explanatory so that anyone can make Scheft's Poppy Seed Hamantaschen, Cheese Bourekas, and Jerusalem Bagels, among other recipes. With several key dough recipes and hundreds of Israeli-, Middle Eastern–, Eastern European–, Scandinavian-, and Mediterranean-influenced recipes, this is truly a global baking bible.
Praise For Breaking Breads: A New World of Israeli Baking--Flatbreads, Stuffed Breads, Challahs, Cookies, and the Legendary Chocolate Babka…
"From babka to breadsticks, Breaking Breads is a definitive guide."
—Food & Wine, The Best Cookbooks for 2016

"A delight to contemplate, offering up utterly creative and beautiful challahs, babkas, rugelach, burekas, and pita, with a small array of savory dips, salads, and condiments at the end. It's baker porn."
—The Boston Globe, The Season's Best Cookbooks

"Uri Scheft's new cookbook falls midway between two trends—Old World baking and Israeli cuisine—and the results are deeply satisfying. . . . Scheft's recipes are fairly simple for a baking book, without the torturously long instructions many traditional methods can include. And there are plenty of sidebars, with tips."
—Los Angeles Times, Our Favorite Cookbooks of Fall 2016

"Stunning. . . . Scheft, the force behind Lehamim Bakery in Tel Aviv and Breads Bakery in New York, has contributed mightily to the canon of bread-focused books not only for his wizard use of Middle Eastern ingredients but also for helping to create such stunning process and technique photography."
—The Washington Post, The Best Cookbooks of 2016
 
"[Scheft's] generously portioned recipes for basic doughs (e.g., challah, babka, brioche, flatbreads) lend themselves to endless variation, and general home bakers can use them to produce both simple rolls and dramatic, festive loaves. [The book] explains the dough's look and feel during all stages of preparation and includes plenty of step-by-step photographs to illustrate more challenging braiding, coiling, and other shaping techniques. . . . An essential modern Middle Eastern baking collection featuring delights such as shakshuka focaccia and chocolate rugelach."
—Library Journal, starred review
 
"No matter your heritage, this collection will expand your horizons."
—Minneapolis Star Tribune

"This beautiful book . . . provides a thorough look into the many influences that have shaped the world of Israeli baking . . . full of enough details and photos to encourage even a novice baker to bake."
—Haaretz.com
 
"Drawing from his Israeli heritage, childhood love of fresh breads, and global travels, Uri makes the international classics . . . and lesser-known European, Israeli, and Middle Eastern Breads . . . accessible for the home baker. . . . This cookbook is truly a bread baker's guide to Europe and the Middle East."
—Bake from Scratch magazine
 
"A bold and beautiful collection of updated classics and playful riffs."
—The Forward
 
"To sample Scheft's chocolate babka is at once a blessing and a curse: It'll become an obsession. But thanks to [Breaking Breads] you can make it at home—with the help of step-by-step photograph instructions that ensure babka success."
—TastingTable.com

"Uri Scheft is the quintessential Israeli baker. His breads, pastries, and babkas have been blowing my mind
since I first ate them on the sidewalk of his bakery in Tel Aviv. This is the book that I have been yearning to
read."
—Michael Solomonov, author and chef/owner of Zahav

"Uri Scheft's reader-friendly instructions, gleaned from a lifetime of baking, lead would-be bakers into the kitchen. I love this book."
—Joan Nathan, author of King Solomon's Table

"I've been waiting for Uri to reveal the secrets to his incredible babka and chocolate rugelach. He finally reveals them and more in Breaking Breads, which melds Middle Eastern flavors with modern tastes. I'm looking forward to rolling up my sleeves and baking my way through his groundbreaking book."
—David Lebovitz, author of My Paris Kitchen

"The ultimate modern guide to the world of global Jewish and Middle Eastern baking. Master baker Uri Scheft shares his craft and knowledge of craveable savory and sweet baked goods, inviting you to make them in your own home."
—Lior Lev Sercarz, author and owner of La Boîte

"From challah to kubaneh, burekas to pita, this is the most definitive and important book on Israeli breads and baking."
—Einat Admony, author and chef/owner of Taïm and Balaboosta
Artisan, 9781579656829, 352pp.
Publication Date: October 18, 2016
About the Author
Uri Scheft
 runs Tel Aviv's Lehamim Bakery, which has been in operation since 2001. He is also the founder of Breads Bakery in New York City, which gained an immediate cult following when it opened in 2014. Born in Israel to Danish parents, Scheft grew up in both Israel and Denmark and divides his time between Israel and the United States.
Raquel Pelzel's work has been featured in Saveur, the Wall Street Journal, Every Day with Rachael Ray, Shape, and Epicurious, among many others. Formerly an editor at Cook's Illustrated and the senior food editor and test kitchen director for Tasting Table, Pelzel has written more than 20 cookbooks and has judged Food Network shows including Chopped Junior and Beat Bobby Flay. Pelzel lives in Brooklyn, New York, with her two sons.