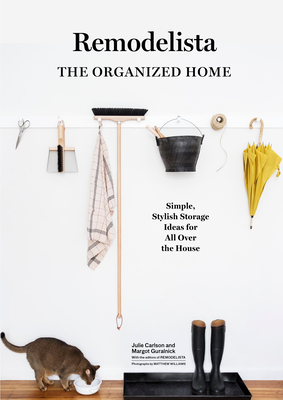 Remodelista
The Organized Home: Simple, Stylish Storage Ideas for All Over the House
Hardcover

* Individual store prices may vary.
Description
Buy fewer (and better) things. Store like with like. Get rid of the plastic. Display—don't stash—your belongings. Let go of your inner perfectionist and remember that rooms are for living. These are a few of the central principles behind Remodelista: The Organized Home, the new book from the team behind the inspirational design site Remodelista.com.

Whether you're a minimalist or someone who takes pleasure in her collections, we all yearn for an unencumbered life in a home that makes us happy. This compact tome shows us how, with more than 100 simple and stylish tips, each clearly presented and accompanied by full-color photographs that are sure to inspire. Readers will learn strategies for conquering their homes' problem zones (from the medicine cabinet to the bedroom closet) and organizing tricks and tools that can be deployed in every room (embrace trays; hunt for unused spaces overhead; decant everything). Interviews with experts, ranging from kindergarten teachers to hoteliers, offer even more ingenious ideas to steal. It all adds up to the ultimate home organizing manual.
 
Praise For Remodelista: The Organized Home: Simple, Stylish Storage Ideas for All Over the House…
"The tools and expert advice you need to impose order beautifully."
—The Wall Street Journal

"Chock-full of . . . straightforward, unfussy solutions for getting your belongings and rooms in order."
—ArchitecturalDigest.com

"Simple and joyful solutions for dealing with clutter prone spots with style."
—Washington Post
 
"A decluttering tome that supports the beauty of organization, helping readers to understand that order can be artful. The book goes room by room through every space in the house, breaking down not only what to toss and keep, but also how to make your home efficient without sacrificing style."
—Apartment Therapy
 
"Here are all the secrets to decluttering your home like a pro. . . . Remodelista: The Organized Home is packed with simple yet unexpected tips for creating a beautiful home. The book breaks it down, room by room, to show you how to display the things you love while achieving the organization you're after."
—Brit + Co.
 
"If a one-day spring cleaning doesn't cut it when it comes to cutting through your clutter, take a look at the new book Remodelista: The Organized Home."
—Houston Chronicle
Artisan, 9781579656935, 224pp.
Publication Date: November 14, 2017
About the Author
Julie Carlson is the author of Remodelista: A Manual for the Considered Home and cofounder of inspirational home site Remodelista.com. Previously, she worked at the Institute for Architecture and Urban Studies in New York before joining the editorial staff of The New Yorker. A graduate of Brown University, Julie lives in Brooklyn, New York.
 
Margot Guralnick
is the coauthor of
Remodelista: The Organized Home
, writer/producer of
Remodelista: A Manual for the Considered Home
, and a longstanding member of the Remodelista team. Though based in the Bronx, she grew up outside of Boston, and practices New England thriftiness as a way of life. She has been a vintage collector since childhood, and makes botanical art from fallen leaves.