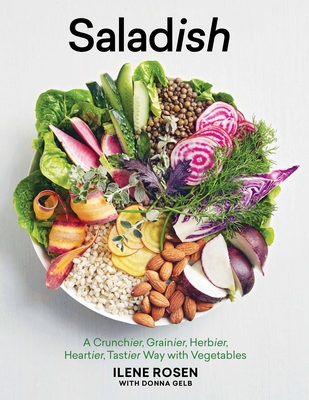 Saladish
A Crunchier, Grainier, Herbier, Heartier, Tastier Way with Vegetables
Hardcover

* Individual store prices may vary.
Description
Winner, 2019 James Beard Award for Best Book of the Year in Vegetable-Focused Cooking

"Elevates salads from the quotidian to the thrilling."
—The New York Times

A "saladish" recipe is like a salad, and yet so much more. It starts with an unexpectedly wide range of ingredients, such as Japanese eggplants, broccoli rabe, shirataki noodles, Bosc pears, and chrysanthemum leaves. It emphasizes contrasting textures—toothsome, fluffy, crunchy, crispy, hefty. And marries contrasting flavors—rich, sharp, sweet, and salty. Toss all together and voilà: an irresistible symphony that's at once healthy and utterly delicious.

Cooking the saladish way has been Ilene Rosen's genius since she unveiled the first kale salad at New York's City Bakery almost two decades ago, and now she shares 100 fresh and creative recipes, organized seasonally, from the intoxicatingly aromatic (Toasty Broccoli with Curry Leaves and Coconut) to the colorfully hearty (Red Potatoes with Chorizo and Roasted Grapes). Each chapter includes a fun party menu, a timeline of preparation, and an illustrated tablescape to turn a saladish meal into an impressive dinner party spread.
Praise For Saladish: A Crunchier, Grainier, Herbier, Heartier, Tastier Way with Vegetables…
"Elevates salads from the quotidian to the thrilling."
—The New York Times

"[Saladish] ranks highest on the usability scale of any book this spring. . . . Rosen is a natural teacher, demystifying fancy-sounding ingredients, dispensing a few crucial laws of salad composition (you want a combo of toothsome, fluffy, hefty, crunchy and crisp) alongside menu suggestions not for special occasions and holidays but for real life, for a real dinner table."
—New York Times Book Review
 
"More than 80 tasty recipes that riff on the traditional salad and star noodles, grains, greens, and a rainbow of veggies. . . . Gorgeous photos and technique illustrations make for a beautiful and useful book."
—Good Housekeeping
 
"Rosen takes the everyday notion of salad and transforms it into a sort of Platonic ideal of creativity and deliciousness."
—Atlanta Journal-Constitution

"Ilene Rosen may not have invented the salad, but there's no question that she transformed it. . . . . Saladish is a compendium of recipes divided by season and punctuated by useful tips and techniques, treatises on texture and assembly, and pantry and equipment guides. While this might sound like every other vegetable-centric tome out there, Rosen distinguishes hers with images and recipes that reflect her unique eye and palate."
—New York
 
"We're committed to this style of salad making, which goes beyond regular offerings to emphasize new ingredients, unusual flavor combinations, and a variety of textures."
—Epicurious

"Even the most lettuce-averse can find comfort amid these 75 dishes which incorporate grains, nuts, cheeses, and proteins."
—Modern Farmer
 
"Rosen's imaginative ode to all salads great and small is proof positive that a salad cookbook can take you places you've never been before, make your taste buds sing and set a new standard for creative combinations. This fabulous book will rev up your repertoire. . . ."
—BookPage, Top Pick in Cookbooks

"Saladish is the product of a chef who is deeply in love with local vegetables and has nurtured a career in creating irresistible ways to serve and eat them. This collection of healthy, colorful recipes offers true inspiration for anyone who enjoys eating vibrant food."
—Michael Anthony, executive chef of Gramercy Tavern
 
"As an Israeli who grew up primarily eating vegetables, I love Ilene's approach here. This is the way we should all be eating!"
—Einat Admony, chef/owner of Balaboosta, Bar Bolonat, and Taïm and author of Balaboosta
 
"Ilene Rosen has knocked it out of the park. The recipes are very user friendly and easy to follow, and she teaches us how to use unfamiliar ingredients like tofu skin and shiso."
—Floyd Cardoz, chef and author of Floyd Cardoz: Flavorwalla
 
"An inspiring, wickedly creative, and practical guidebook to making vegetables, grains, and seeds the stars of your table."
—Anne Saxelby, founder of Saxelby Cheesemongers
 
"This book provides what I always find to be most meaningful in any great cookbook: an approach that teaches experimentation and variation; a guide to pantry staples like vinaigrettes, sauces, and condiments; and a fresh perspective that puts all these things together in a new way. The most satisfying things to eat—anything and everything—can and probably should be saladish."
—Caroline Fidanza, chef and author of Saltie: A Cookbook
 
"We could eat Ilene Rosen's mouthwatering and inventive food every day. With this book, we have the chance to do that."
—Marc Meyer and Victoria Freeman, partners in Cookshop, Vic's, Rosie's, and Shuka
Artisan, 9781579656959, 208pp.
Publication Date: March 20, 2018
About the Author
Ilene Rosen is the chef, creative director, and co-owner of R&D Foods, a specialty grocery shop featuring her prepared foods that opened in Prospect Heights, Brooklyn, in 2013. Previously, Rosen spent fifteen years as the savory chef at City Bakery, where she basked in the glory of seasonal produce and honed her craft creating the salad bar that gained a cult following. Rosen resides in Brooklyn, a seven-minute walk from her shop and a two-minute walk from the Grand Army Plaza Greenmarket, where she continues to be exuberant about fruits and vegetables.