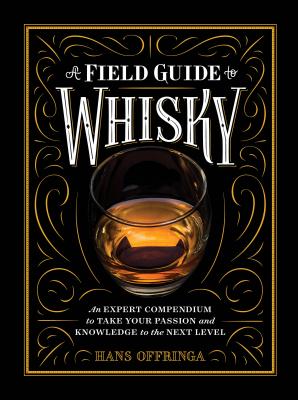 A Field Guide to Whisky
An Expert Compendium to Take Your Passion and Knowledge to the Next Level
Hardcover

* Individual store prices may vary.
Description
A Field Guide to Whisky is a one-stop guide for all the information a whisky enthusiast needs. With the whisky market booming all over the world, now is a perfect time for a comprehensive guide to this popular brown spirit. What are the basic ingredients in all whiskies? How does it get its flavor? Which big-name brands truly deserve their reputation? What are the current whisky trends around the world? And who was Jack Daniel, anyway? This abundance of information is distilled(!) into 324 short entries covering basic whisky literacy, production methods, consumption tips, trends, trivia, geographical maps and lists of distilleries, whisky trails, bars, hotels, and festivals by an industry insider. Boasting 230 color photographs and a beautiful package to boot, A Field Guide to Whisky will make a whisky expert out of anyone.
 
Praise For A Field Guide to Whisky: An Expert Compendium to Take Your Passion and Knowledge to the Next Level…
"Hans Offringa has managed to present his deep knowledge in a new, entertaining, and highly visual way . . . [and] proves that there are still new ways of preaching the whisky gospel."
—Malt Whisky Yearbook
 
"A one-stop guide for anyone with whisky questions. . . . The answers to anything you've ever wondered about your favorite spirit in a straightforward Q&A format."
—Unfiltered Magazine
 
"A significant guidebook."
—Charleston Mercury
 
"Presented in a handsome hardcover edition. . . . Offringa offers dram-sized bits of information that are easily digestible and that combine to provide a highly readable collection."
—Winnipeg Free Press
 
"This book is a must for all lovers of whisky."
—Charles MacLean, author and founding editor of Whisky Magazine
 
"Deserves a place in the home of every whisky fan."
—Ewan Gunn, global whisky master at Diageo
 
 "Hans Offringa is one of the best whisky writers."
—Ingvar Ronde, publisher and editor of Malt Whisky Yearbook
 
"A perfect guide for someone making their first (or maybe their second or third) journey into the world of whisky."
—Nick Morgan, head of whisky outreach at Diageo
Artisan, 9781579657512, 320pp.
Publication Date: May 2, 2017
About the Author
Hans Offringa is an author and an internationally renowned whisky expert. He holds many esteemed titles in the whisky world: Patron of the Whisky Festival Northern Netherlands, Honorary Scotsman, Honorary Member of the Caledonian Society of Charleston (SC), Keeper of the Quaich, and Kentucky Colonel. He is also the contributing editor for Europe for Whisky Magazine, and one of the lecturers at the International Whisky School in Groningen, Netherlands. Offringa and his wife, Becky Lovett Offringa, are known as the Whisky Couple, and have been judges at the Dutch Whisky Awards since its inception.