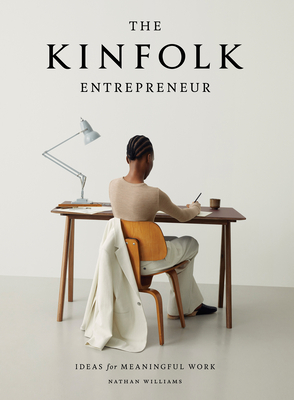 The Kinfolk Entrepreneur
Ideas for Meaningful Work
Hardcover

* Individual store prices may vary.
Description
In The Kinfolk Entrepreneur, author Nathan Williams introduces readers to 40 creative business owners around the globe, offering an inspiring, in-depth look behind the scenes of their lives and their companies. Pairing insightful interviews with striking images of these men and women and their workspaces, The Kinfolk Entrepreneur makes business personal. The book profiles both budding and experienced entrepreneurs across a broad range of industries (from fashion designers to hoteliers) in cities across the globe (from Copenhagen to Dubai). Readers will learn how today's industry leaders handle both their successes and failures, achieve work-life balance, find motivation in the face of adversity, and so much more.
 
Praise For The Kinfolk Entrepreneur: Ideas for Meaningful Work…
"Scandinavia has long been heralded as a source for inspiration, cutting-edge ideas, and design. Williams, editor in chief of the Copenhagen-based quarterly Kinfolk magazine and author of The Kinfolk Home (2015) and The Kinfolk Table (2013), offers material from these three fronts, and more. An eclectic global selection of entrepreneurs—varied by career, perspective, and background—greets readers through strong narratives and exquisite photographs, explaining their working passions and why they do what they do. A Swedish former-athlete-turned-perfumer, a chocolatier, and the creators of a novel concept in residential brokerage sales are among those 40 entrepreneurs singled out for vision, partnership, and community-building proficiencies. Next up are 7 tips that will be helpful to all business founders, from proper hiring to risk management; a selection of recommended supplies (books, desk essentials, and snack foods, all photographed in the iconic Kinfolk style); and one item of advice each from 10 different company owners."
—Booklist, starred review
Artisan, 9781579657581, 368pp.
Publication Date: October 17, 2017
About the Author
Nathan Williams is the author of The Eye, The Kinfolk Entrepreneur, The Kinfolk Home, and The Kinfolk Table and the editor in chief of Kinfolk, a lifestyle magazine published quarterly by Ouur studio. Founded in 2011, Kinfolk maintains a vibrant contributor base from Copenhagen to Cape Town and hosts hundreds of global events each year that bring the community together.